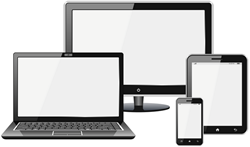 Denver, CO (PRWEB) January 14, 2014
A critical mile stone has been passed that changed everything online. In June of 2013, it was confirmed that more than 50% of Internet access was coming from mobile devices. Is this Web5.0 or 6.0 that has been under estimated and poorly predicted? CJ Rapp in Denver Colorado, the principal of 1 Click Solutions, LLC thinks this should be considered the second era of the Internet because it is so important. "Responsive Web Design is a superior technology and a best practice for businesses of all types and sizes to adopt and leverage for localized lead generation via search discovery. Mobile optimization of a business website is no longer optional it is now mandatory!"
Over the past several years, a good solution for mobile optimization has been to deploy a mobile website (more than 90% of American businesses with a website have not yet done anything for mobile optimization). A mobile website can be added to an existing site or sold as a SaaS (Software as a Service). Mobile websites display information that is optimized for specific mobile devices. A code used to detect the type of device accessing the information has been a great solution when smart phones are used to search for information or local goods and services for example. The information displays nicely and the sites have basic interactive feature like; click to call, click for directions, about us, and even specials and promotions (calls to action to visit) etc. Mobile websites don't always look good on tablets however.
Unfortunately, many times mobile websites have been referred to as a "Mobile App", which is a misrepresentation. Mobile Apps must be down loaded from iTunes or the Google Play Store. Apps become part of the software on a mobile device and are generally far more interactive than a mobile website and should be used by businesses that have ongoing interactions with customers; loyalty programs, scheduling appointments, news feeds, calculators, reminders, reward redemption etc. It should be noted that a true mobile app has no SEO potential to help the online website be discovered (until after it has been downloaded, saved and used). While mobile apps have a longer life expectancy with great design and function, mobile websites will soon become boring, dated and will become a negative for businesses when they start to be perceived as cheap and ugly. A mobile website will still be better than allowing a non-mobile optimized web presence to represent a business indefinitely.
The best solution now available is a Responsive Designed Website that optimizes the information for any sized device. This is accomplished by building a website with the new HTML5 code that detects the device accessing the information and makes automatic adjustments to what is displayed. Size adjustments to aspects of the large desktop version adapt the information so it looks great on any device, including tablets. In some cases, images, content and formats are eliminated to fit the screen. The objective of responsive web design is aimed at crafting sites to provide an optimal viewing experience with easy reading and navigation with a minimum of re-sizing, panning, and scrolling across a wide range of devices.
"Effective online marketing requires well designed key elements all working together in a coordinated and managed plan that will deliver good lead generation and ROI, based on what I like to call a holistic approach," says CJ. What are these key elements; #1- Mobile Optimization with Responsive Web Design #2 – Adaptive SEO that discovers the best keywords to build a content blue print and frame work #3 – Fresh keyword rich relevant content that begins on the website and is distributed over many digital assets #4 – Social Media integration for sharing #5 – Strong calls to action and conversion architecture deployed on each and every digital asset #6 – Regular blogging and social activity to create social signals and distribute keyword rich content #7 – PPC campaigns to drive traffic to good landing pages with strong calls to action and conversion architecture #8- email marketing to keep in contact with current customers and to nurture new ones #9 – Online Review and Reputation Management.
1 Click Solutions, LLC is a Holistic Internet Marketing agency serving the Colorado Front Range.