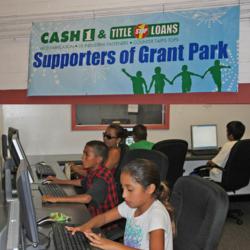 Phoenix, AZ (PRWEB) September 10, 2012
1 Stop Title Loans, a small business offering Arizona title loans to residents with 13 locations valley wide, makes a donation of funds, time, and technical manpower to make Grant Park Community Computer Center possible for many Maricopa County children. The Computer Center, located at 701 South 3rd Avenue, in Phoenix, offers children a safe environment to work on homework and learn new technology.
The new computer room consists of 12 desktop computers with the latest software. The Community Center will be open at 4 p.m. once students are finished with school for the day allowing them to work on their homework. A supervisor will be present during hours of operation to help students learn the new computer software.
Along with 1 Stop Title Loans, Cash 1, WCD Fabrications, US Industrial Fasteners, and Counter Tapps Tops made a donation to better the community and give children the resources needed to succeed. In todays technological world, says Richard Bauer, CEO of 1 Stop Title Loans, it is essential to give kids the resources they need to become successful. Our goal was to create a safe environment for the kids to do their homework and learn new computer skills. We are excited to have helped out the kids and the community. 1 Stop is an active contributor to the community; frequently attending events, giving out free identification cards for children, collecting for the March of Dimes Project and donating hundreds of pounds of food each holiday season.
About 1 Stop Title Loans

1 Stop Title Loans has over 12 locations valley wide and has been providing the metro Phoenix area with short-term financial loans, as well as other services including check cashing, auto insurance, and MVD services since 2003. The 1 Stop Challenge promises customers will be treated professionally, get the cash they need, and the assistance required to help them understand their loan terms and conditions. For more information regarding 1 Stop Title Loans visit 1stoptitleloans.com or call (602) 264-2400.