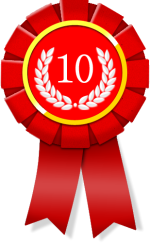 San Francisco, Calfornia (PRWEB) February 18, 2014
10 Best Design was founded when web design industry professionals banded together in an effort to bridge the divide between the potentials of Web2.0 technologies such as HTML5, Canvas, & CSS3 and the overtly outdated websites being produced by even some of the biggest design companies. From this desire to find top performers, the 10 Best Design team set out to create a platform through which users could find the Best SEO Agencies. Thus, 10 Best SEO was born.
10 Best SEO (10SEO), based in San Francisco, California, is dedicated to generating lists of what they believe to be the Best SEO Agencies. The firms ranked on this site have been awarded based on vigorous analyses by the team and its comprehensive, proprietary 10 Best SEO Analytic Review. From this, 10 Best SEO team members apply their extensive experience to select the best companies.
This ranking system is what sets 10SEO apart and what allows them to rapidly analyze hundreds of firm in a fraction of the time. The variables in this review include things such as Google PageRank (PR), Alexa Traffic Rank, and a checklist of onsite optimizations. Additionally, the 10 Best SEO team checks things such as customer reviews and other inbound properties.
On top of their ranking list, 10 Best SEO has begun to compile an all-encompassing Directory of SEO Firms. This directory is broken up by U.S. states, and now includes SEO agencies from California, New York, Florida, Alabama, Alaska, Arizona, and Arkansas. Each of these SEO directory pages are also ordered according to a variation of 10 Best SEO Analytic Review process which has been applied to each specific set of companies.
In their first official ranking, 10 Best SEO has awarded 352 Media as the #1 Best SEO Firm. 352 Media is a full service digital agency located in Newberry, Florida. They provide web design, web development, online marketing, and digital strategy which has boosted web presence for many of their clients.
10 Best SEOs site has already gained a significant amount of publicity as a result of its connection to 10 Best Design and their web design awards for high-performing firms.