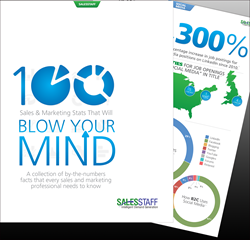 Houston, TX (PRWEB) November 20, 2014
In todays world of B2B sales and marketing, statistics and metrics reign supreme. SalesStaff LLC, the industry leader in demand generation, has published a statistical collection of more than 100 impactful facts and figures related to B2B sales and marketing. This free eBook is comprised of some of the most staggering indicators in content marketing, social media, Search Engine Optimization (SEO), email marketing, and sales process, among other pertinent facets of B2B sales and marketing.
The eBook, 100 B2B Sales and Marketing Stats that Will Blow Your Mind, has a playful format reminiscent of an infographic style. Readers will discover some of the most harrowing facts relating to all facets of B2B sales and marketing that just might change the way they work. For instance, in one chart SalesStaff points out that 4% of all salespeople in the U.S. sell 96% of all goods and services. Another reveals that 91% of customers say theyd give referrals, but only 11% of salespeople actually ask for a referral.
SalesStaff cites a number of well-known, highly respected sources in the eBook, including organizations like HubSpot, Fast Company, Mashable and Harvard University.
The 100 Sales and Marketing Stats eBook is just the latest in a long line of valuable free content that SalesStaff provides its audience. Drawing on their decades of experience intimately involved in B2B sales and marketing processes, SalesStaff has been pulling back the curtain and offering premium content to the sales and marketing community for a number of years. Previous reports and whitepapers include (1) The Best Days and Times for Sales Prospecting, (2) Be a Follow-Up All-Star: The 1-2-3 Method, and (3) The B2B Sales and Marketing Alignment Funnel. SalesStaffs industry-focused premium content has been well-received by the sales and marketing community, netting over 10,000 free downloads.
"Sales and marketing are unique departments in that they are aligned in the most intrinsically measurable of business functions," said Ric Riddle, SalesStaffs VP of Demand Generation. Our goal was to provide B2B sales, marketing, and business development professionals with statistics that hit them hard and, in the process, might reveal some of their strengths and weaknesses as a revenue-generating team and we feel like this eBook does just that.
Download 100 Sales and Marketing Stats that Will Blow Your Mind here.
About SalesStaff
SalesStaff is a premier provider of appointment setting and demand generation services for high-tech and business-to-business companies. For more information, visit http://www.salesstaff.com or contact by phone 888-591-8022 Ext. 333. To schedule an interview with Ric Riddle, please contact 888-591-8022 or by email at info@salesstaff.com. Download 100 Sales and Marketing Stats that Will Blow Your Mind here.