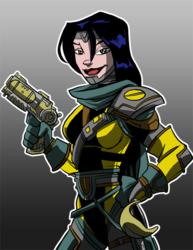 (PRWEB) August 24, 2012
Snakehead Games Inc (SHG) invites budding writers and sci-fi fans to showcase their creative writing talents to win cash prizes and a opportunity to see their work in publication.
"The contest is set in SHG's own StarCrash universe, a thought-provoking and many-faceted cyberpunk look at a future dominated by artificial intelligence and scarcity of resources," said Colin Ferguson, Director of Marketing at SHG. "This universe is the setting for SHG's browser-based MMOs: Spybattle 2165 and Star Pirates."
Each short story submission must be 3,000 to 6,000 words in length and cannot have been previously published. Stories will be judged based on creativity, writing quality, interest to readers, and relevance to the storyline. The contest will continue through September 30th, 2012, midnight (EST). Submissions should be sent via email to info(at)snakeheadgames(dot)com.
SHG staff will select the finalists, and the winner will be determined by popular vote amongst readers. There is a cash prize of $ 1,000 to the overall winner, and $ 100 to at least five semi-finalists. In addition, SHG will compile all finalists into a publication to be released following the contest's conclusion.
Information packages on Spybattle 2165 (http://www.spybattle.com), Star Pirates (http://www.starpirates.net) and their place in the Starcrash Universe timeline, along with the complete Rules & Regulations, are available as a resource to applicants at http://www.snakeheadgames.com/?p=1515.
"This contest is a unique opportunity for writers to practice their craft, while winning great prizes," continued Ferguson. "We grew up on great SciFi writing and want to provide an opportunity to get some great new authors, and their works, published."
About Snakehead Games

Snakehead Games Inc is the maker of the popular browser-based social games, Star Pirates (http://www.starpirates.net) and 2165 Spy Battle (http://www.spybattle.com). Founded in 2008 and headquartered in Hamilton, Ontario, Canada, the community gaming firm is expanding. SHG recently launched the Word Nerds mobile tap and spell game for iPhone and Android Mobile devices. More about Word Nerds : http://www.snakeheadgames.com/?page_id=1235.