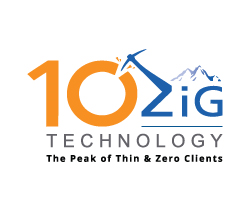 Phoenix, AZ (PRWEB) February 03, 2015
10ZiG Technology, an innovator in thin and zero client solutions, today announced a partnership with Carahsoft Technology Corp., the trusted government IT solutions provider. Under the agreement, Carahsoft will serve as 10ZiGs master government distributor making the companys industry-leading VDI Ready Thin & Zero Client line available to the public sector and its ecosystem of partners via Carahsofts GSA schedule.
We are very pleased to expand our existing partnership with Carahsoft, a long-time industry leader in the delivery of quality IT solutions in the FED/SLED space, says Robert Hammond VP of Business Development for 10ZiG Technology. By partnering with Carahsoft, we are confident in our ability to greatly expand our existing desktop footprint, especially in the government sector.
10ZiG Thin & Zero Clients are the ideal fit for the public sector marketplace. 10ZiG offers some of the most secure, highest performing, lowest TCO units in the market today. Coupled with its free enterprise class management utility and industry-leading, US-based technical support, 10ZiG is always the path of least resistance towards desktop virtualization.
We are excited to expand our portfolio of VDI solutions with 10ZiGs PCoIP offerings. Our government customers and our resellers are now able to access a full line-up of zero client form factors via our GSA schedule including stand-alone, all-in-one monitor, and medical monitor form factors, said Will Jones, vice president of VMware and Virtualization Solutions at Carahsoft. 10ZiGs products also help optimize desktop virtualization environment for users of VMwares Horizon.
10ZiG Technologys Thin & Zero Clients are available immediately via Carahsofts GSA Schedule No. GS-35G-0119Y. For more information, register for an on-demand webcast: Minimize IT Complexity and Reduce Costs with 10ZiG; or contact Carahsoft at 888-686-9723.
About 10ZiG Technology
10ZiG Thin Clients & Zero Clients are optimized for desktop virtualization and offer the latest VDI brokers preinstalled, with support for PCoIP, HDX, and RDP protocols to name a few. Combining the best of breed in security, high performance and flexibility, 10ZiG devices offer the complete desktop experience. Our goal is to take the complexity out of Desktop Virtualization by providing Thin Clients and Zero Clients with components that simplify implementation, improve management and enhance the user experience. Our Thin Clients and Zero Clients are available in a wide-range of hardware options including wireless devices, All-in-Ones and small form factor units, with a Thin Client OS choice of PEAKos (Linux), Windows 7 Embedded, or Windows Embedded 8.
Contact:

Stuart Pladgeman