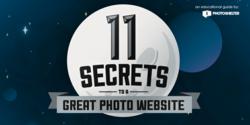 New York, NY (PRWEB) June 20, 2013
PhotoShelter (http://www.photoshelter.com), the worldwide leader in photography portfolio websites, sales and marketing tools for photographers, today published a new free educational guide, 11 Secrets to a Great Photo Website. In it, photographers can learn how to use their portfolio website to attract clients, encourage word-of-mouth referrals and make more sales online. 11 Secrets to a Great Photo Website can be downloaded here: http://bit.ly/photowebsite
The guide also covers the latest technology for showcasing photography portfolios online including responsive design, compatibility with various web browsers and mobile devices, user-friendly navigation, and e-Commerce capabilities. And, it provides:


A sneak peek at PhotoShelters new responsive portfolio websites.
10 questions photographers should ask when choosing a photo website provider.
Tips on how PhotoShelter can help build a business online.
Those who download the guide by June 26, 2013 will be entered to win exclusive access to PhotoShelters new portfolio websites, currently in private beta. 15 people will be chosen to be among the first testers.
11 Secrets to a Great Photo Website is the latest in PhotoShelters ongoing series of free business guides for photographers and marketing professionals. PhotoShelters e-book library includes 25+ educational guides including topics such as social media, email marketing, and starting a photography business. All can be downloaded here: http://bit.ly/psresearch.
About PhotoShelter

PhotoShelter offers the most professional, reliable and innovative online tools to build and grow a successful photography business. Over 77,000 photographers use PhotoShelters websites, social and SEO tools to show their work and attract new clients; online image archives to stay organized and access images on the fly; and image delivery and e-commerce tools to sell their work easily and securely. To grow your business, manage it more efficiently, or find new ways to market yourself and delight your clients, try PhotoShelter free for 14 days when you visit http://www.photoshelter.com.