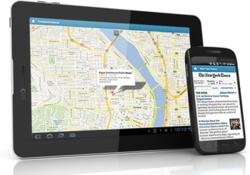 Winnipeg, MB (PRWEB) December 27, 2012
Just six months into Andromo 2.0s official release, 169,873 users have signed up to make their own custom Android apps at http://www.andromo.com. Andromo is an online web service for creating Android apps without programming. 145,046 apps are currently under development by Andromo users with over 12,000 apps already available in the Google Play app store.
Using Andromos visual interface, anyone can build an Android app in minutes by choosing from a list of popular activities. Developers can include interactive maps, Twitter feeds, Facebook pages, photo galleries, soundboards, SHOUTcast Radio and Podcasts, PDF/E-Book Viewers and more in their custom apps. By mixing and matching activities, Andromo users can build a huge variety of custom apps, such as apps promoting businesses, fan apps, e-books, news and radio apps, and more.
Andromo users are generating revenue from their apps in a variety of ways. Thousands of Andromo-built apps are available for sale in Google Play, with millions of installs to date. Both large and small businesses can distribute apps to increase customer awareness, or to promote sales and events. Developers can build apps for clients using Andromo and charge consulting fees. Even free apps can make money for the designer by linking to an AdMob account.
Our users are always telling us how much they love Andromos ease-of-use, and the variety of apps theyre able to make, says Indigo Rose Software President Colin Adams. Andromo users have made store locators, DIY e-books, travel guides, community club apps, and lots of others. Basically, if you have an idea, Andromo can help you turn it into an app.
Since its launch, Andromo has added to its list of available app activities in response to popular customer requests. The latest features include PDF/E-Book Viewers, Podcast and SHOUTcast radio features, and the integration of AirBops GCM push messaging platform.
To start making Android apps, interested developers can subscribe to Andromo at http://www.andromo.com for $ 25/month or $ 129/year.
About Andromo App Maker for Android
Andromo is a trademark of Indigo Rose Software Corporation. Privately held, Indigo Rose Software has been creating award-winning software development tools since 1991. Our programming tools – AutoPlay Media Studio, Autorun MAX!, MSI Factory, Setup Factory, TrueUpdate, and Visual Patch – have been used to deliver software to hundreds of millions of systems worldwide.