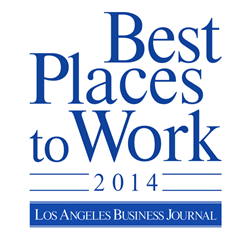 Los Angeles, CA (PRWEB) July 14, 2014
180fusion, a leading SEO, SEM, and Social Media Marketing company, was named as one of the Best Places to Work in Los Angeles by the Los Angeles Business Journal and Best Companies Group.
Designed to recognize, identify, and honor the top 100 employers in the 2nd biggest city in the country, the Los Angeles Business Journal aims to spotlight companies benefiting the Los Angeles economy and workforce. If Los Angeles were a nation, its economy would be the 19th largest in the world and is home to more than 244,000 businesses.
Privately held and public companies headquartered in Los Angeles entered the two-part survey process to determine the Best Places to Work in Los Angeles. The first part consisted of evaluating each nominated company's workplace policies, practices, philosophy, systems and demographics. This part of the process was worth approximately 25% of the total evaluation. The second part consisted of an employee survey to measure the employee experience. This part of the process was worth approximately 75% of the total evaluation. The combined scores determined the top companies and the final rankings. Best Companies Group managed the overall registration and survey process in Los Angeles, analyzed the data and determined the final rankings.
We are thrilled to receive this awardit is a tremendous honor for the whole 180fusion team. 180fusion continues its commitment to top-quality services for our clients, and that starts with our valuable employees. We see great value in spending significant time training and engaging employees in every aspect of our organization. When our employees quality of work life increases, this translates into satisfied and engaged employees who create cutting-edge solutions for our company, clients, and partners, said Scott Cohen, CEO of 180fusion.
180fusion has created a work environment that is an exciting atmosphere for employees complete with employee recognition programs, daily perks, and beautiful views of the ocean from West LA. In addition, 180fusion also provides in-depth trainings to ensure employees stay ahead on the latest trends concerning online marketing. 180fusions continued development of its employees is led by the 180fusion Culture Club dedicated to the work hard, play hard mentality, which provides fun and team building activities throughout the year. The 180fusion Cares program, which is devoted to serving charitable causes in the community, provides ongoing volunteer opportunities for all employees to make a meaningful difference in the world by giving back locally and nationally.
180fusions Best Places to Work award will be revealed at a special event honoring the company on August 19th, 2014 in downtown Los Angeles at the JW Marriott, LA Live. For more information on the Best Places to Work in Los Angeles program, visit http://www.BestPlacestoWorkLA.com.
About 180Fusion

180fusion helps companies increase sales, build brand awareness, generate qualified leads, and expand market share by taking full advantage of the internet. It is the gold standard for Search Engine Marketing. Its suite of products and digital marketing services include: SEO services, including National and Local SEO, PPC Management, Reputation Management, and Social Media Marketing, to help thousands of small and medium sized companies succeed online. 180fusion is a trusted business partner to its customers, offering expert insight, best-in-class services, and continuous innovation to address emerging challenges. The company is headquartered in Los Angeles, California with regional offices across North America. For more information, visit http://www.180fusion.com.