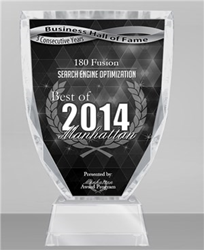 Los Angeles, CA and New York, NY (PRWEB) September 02, 2014
For the third consecutive year, 180fusion has been selected as the 2014 Best of Manhattan Award in the Search Engine Optimization (SEO) category and awarded into the Hall of Fame for Top SEO Company. 180fusion has been recognized as a local company that has enhanced the positive image of small businesses through exceptional customer service, SEO Results, and community support.
The Program identifies prominent companies that are leaders in their local community and business category. The Award was established to recognize the best of local businesses in each community. Nationwide, only 0.5% (1 in 140) of 2014 award recipients qualified as Three-Time Award Winners. To choose recipients, the committee gathered and analyzed various sources of information including data provided by third parties.
180fusion is honored to be recognized as the #1 provider of high-quality Local SEO. Our team continues to focus on helping SMBs increase sales by generating qualified traffic from our SEO products and services, Scott Cohen, CEO of 180fusion.
As one of the fastest growing private companies as recognized by Inc 500, 180fusion has grown the digital marketing team by 85+ employees to deliver an integrated suite of SEO, SEM and Social Media solutions for clients in all industries from startups to large enterprise companies.
About 180fusion

180fusion is a nationally recognized search engine marketing company specializing in helping companies increase sales, generate qualified leads, and expand market share by taking full advantage of the internet. Its suite of integrated solutions include National and Local SEO, PPC Management, Mobile Search, and Social Media Marketing to help thousands of small and medium sized companies to Fortune 1000 companies succeed online. 180fusion is offering expert insight, best-in-class products, and continuous innovation to address emerging digital marketing challenges for its customers and channel partners. 180fusion was recognized in the Inc. Magazine Top 500 Fastest Growing Private Companies in America in 2014 as #176 overall and top 25 fastest growing in the Advertising and Marketing industry. The LA Business Journal also awarded 180fusion for Top 100 Best Places to Work at #18. The company is headquartered in Los Angeles, California with regional offices across North America. For more information, please visit: http://www.180fusion.com.
About Manhattan Award Program

The Manhattan Award Program is an annual awards program honoring the achievements and accomplishments of local businesses throughout the Manhattan area. Recognition is given to those companies that have shown the ability to use their best practices and implemented programs to generate competitive advantages and long-term value.