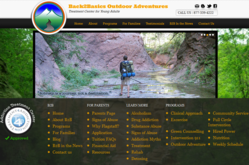 Flagstaff, AZ (PRWEB) December 31, 2012
Over the 2012 year Back2Basics has consistently housed the most, young male addicts since the programs inception more than two and a half years ago. Spring 2013 will only make Back2Basics Outdoor Adventures third year in long-term sober living.
I attribute Back2Basics success this year to its improvements within the programs, the hiring on of new staff and by recognizing the importance of building a strong online presence, said Carly Robertson Back2Basics PR Coordinator and Web Content Editor.
Robertson constructed a year-long re-haul for Back2Basics online presence new website interface, YouTube channel, blog and building a social media network.
It was important to me to voice the Back2Basics institution in a consistent and positive way. Mostly because the program is just that consistently successful and extremely positive for these young men, said Robertson.
In addition to creating a cohesive online brand, founder and CEO Roy DuPrez hired more staff to efficiently meet the individual needs of every resident. New Outdoor Adventure staff has made it possible to hike, swim, camp, practice yoga and kayak in more locations. Additions to the therapy team have improved group and independent counseling sessions.
2012 has been an awesome year for Back2Basics, said Roy DuPrez. My goal was to make ourselves known even more so in the sober community and in our modest town of Flagstaff.
Now Back2Basics holds a professional relationship with four successful businesses in Flagstaff – Salsa Brava, Fat Olives, Late For the Train and Old Town Creperie all of which were founded and are owned by sober entrepreneurs. All four businesses have mentored Back2Basics residents within this past year either during their program or post graduation.
Back2Basics is here to help young men turn their lives around using holistic treatment, life-skill building and good old-fashioned Mother Nature, said Robertson. And its working.