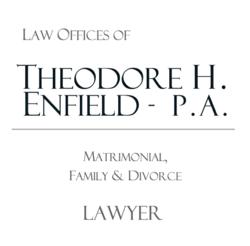 MIAMI (PRWEB) February 19, 2013
Theodore H. Enfield, a Child Custody Florida lawyer, releases a review on Florida child support guidelines for the year 2013. To determine child support in the state of Florida pursuant to child support guidelines both petitioner and respondent are required to prepare a financial affidavit. says Theodore Enfield. Courts will look at the mandatory disclosure filed by both parties in determining child support and a trial court is required to make findings of fact regarding the income of the parties in order to determine child support. In case that the court does not make findings, the final judgment awarding child support is subject to appeal. A trial court cannot fail to award child support and reserve jurisdiction to award support in the future. All child support orders require the name date of birth of the child subject to the order.
When it comes to Florida child custody laws and whether a trial court's computation of child support is correct It is only a question of law. The computation must be supported by competent and substantial evidence, a child support worksheet must be filed with the court by each party, and in addition each party must file their financial affidavit. The court will require an income deduction order which instructs an employer to send payment of child support. The form must contain information necessary for the employer to comply with the amount that is being withheld.
The trial court must consider part-time employment income as well as employment from secondary jobs to make sure that child support payments are actually paid. If a party receives gift income from a parent that is not included in child support calculations but has apparent for several years and receives substantial gifts of money from a parent – these payments should be taken into account as part of the income for child support guideline purposes.
Business income from sources such as self-employment, partnership Corporation and independent contracts are considered for child support. Workers compensation benefits are included in the definition of gross income for calculation of child support as well. When security disability benefits are the result of the parents disability such benefits are included in income irrespective of whether they are paid to the parent for the parents disability or to the child as a result of his or her parents disability. Any amount received on behalf of the child as a result of the parents disability is a direct reduction from the guidelines computation and a credit for the payers child support obligation.
In the state of Florida Miami divorce, any marital asset distributed to a party requires the court to consider the income incident to the award of such asset. Monthly income shall be imputed to an underemployed parent if the unemployment or underemployment is voluntary. Upon a finding that a parent is voluntarily underemployed earnings shall be imputed based upon the recent work history qualifications and earning level in the community for such job. Being fired from employment as a result of voluntary actions can result in imputation of income. Child care costs incurred due to the employment of one parent are added to the basic child support obligation. Even if a child is being cared for by a family member the trial court may make findings of fact that support such an award. To be on the safe side, it is recommended to consult a qualified divorce attorney for different states laws.
About Theodore H. Enfield –

With more than 30 years of experience helping Florida families deal with family law issues such as divorce, child custody, child support, equitable property settlement and domestic violence, Theodore Enfield, one of the respectful divorce lawyers in Miami, has advised his clients through all modifications and issues that are likely to arise during those difficult times.
For questions regarding Child Custody Florida contact Theodore Enfield by calling 305-933-9592,

800-733-5299 or filling up a short contact form at http://www.theodoreenfield.com/