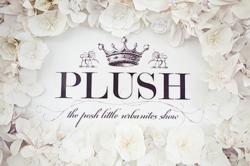 Los Angeles, CA (PRWEB) April 16, 2013
Jina Park, CEO and Founder of PLUSH, heightens the unprecedented growing success of the 2013 PLUSH Show by revealing guest speakers Jennifer Sbranti and Jason Okuma. New hire Jonathan Walton joins the PLUSH team as their Logistics Director to further the success of the annual PLUSH luxury baby and toddler trade and consumer show upcoming June 7th-9th, 2013 at the Hyatt Regency Century Plaza, in Los Angeles, CA.
PLUSH exudes a level of incomparable exhibitors and sponsors, and in terms of our capabilities and resources, it was absolutely necessary to feature guest speakers of the similar stature, said Jina Park, CEO and Founder of PLUSH.
Jennifer Sbranti, of Hostess with the Mostess, will add exceptional insight on planning unique and contemporary parties to attendees on PLUSH's consumer show day.
I'm really looking forward to participating in PLUSH this year, and can't wait to share some of my favorite party styling ideas and DIY projects with all of the moms and moms-to-be, said Jennifer Sbranti. Motherhood presents so many opportunities for imagination and creativity especially when it comes to celebrating!"
On PLUSH Show's business trade show day, Jason Okuma, a well known trainer and educator on the complexities and technologies of Social Media, will speak on simple and tactful methods which will help retailers to grow their respective business on a new level.
PLUSHs newest hire, Jonathan Walton, joins as the Logistics Director. As a Juvenile Industry expert, he specializes in trade show organization, logistics and event client relations within the endless intricacies of the industry. Continued Jina Park, With an impressive client list, experience and education in the trade show environment, Jonathan Walton's addition to the team is of great value and future success to our show's expansion.
SPEAKER SCHEDULE
JASON OKUMA: JUNE 8th, 2013 BUSINESS TO BUSINESS DAY Simplifying Social Media Marketing for Small Business
JENNIFER SBRANTI: JUNE 9th, 2013 CONSUMER DAY Creative Ideas & Clever Techniques to Make Any Party POP
ABOUT JENNIFER SBRANTI

Jennifer Sbranti is a graphic designer and founder of Hostess with the Mostess