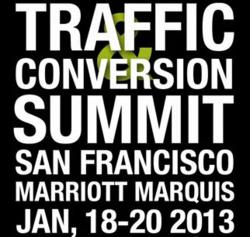 Austin, TX (PRWEB) November 30, 2012
The digital marketing sessions at the 2013 Traffic and Conversion Summit, being held January 18-20, 2013 in San Francisco, California, will cover a wide range of important topics. The event will certainly be the place to be for any entrepreneur or marketer looking to further develop their online business.
Digital Marketer, the organizers of the event, wanted to make people aware of some of the topics that will be discussed and encourage interested attendees to learn more about the Summit before making the decision to participate. Once they discover all that the weekend-long Summit has to offer, Digital Marketer is confident they will choose to attend.
In previous years, the Traffic and Conversion Summit has held search engine optimization-centered sessions, and they have always been a big hit with participants. When Google updated with Panda, Digital Marketer and the expert panel behind this session acknowledged all the sites that dropped off the cliff while managing to boost their websites at the same time. Attendees wont want to miss whats sure to be a productive and educational session.
The digital marketing convention is designed in a way to encourage collaboration and partnerships, and will feature plenty of opportunities to learn from peers who have battled through the same difficulties of any other participant.
There will also be an entire session devoted to mobile commerce, which is beginning to give traditional web commerce a run for its money. Digital Marketer has spent the better part of the past year experimenting with mobile, and what their analysis has shown is sure to be beneficial to any marketing plan.
People looking to update marketing strategies with whats working now will find exactly what they need at the 2013 Traffic and Conversion Summit.
Digital Marketer releases informational and educational materials to help businesses and entrepreneurs gain insight and information on the trends, data, and strategies that can take them to the top of their industry. Through their RAW Training courses, strategic plans, blogs, newsletters, site reviews, and Special Reports, Digital Marketer supercharges every single marketing campaign it touches. For more information, visit DigitalMarketer.com.
The folks at Digital Marketer know that time is valuable, and money is even more so. They want to make sure everyone has a chance to learn what the 2013 T&C Summit has in store, and that they can make an educated decision about investing their time and hard-earned money in an event of this magnitude. The digital marketing sessions at the Summit are not to be missed, as many more topics will be covered over the weekend.