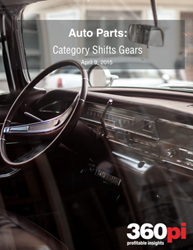 (PRWEB) April 13, 2015
Ottawa, Canada: While still a relatively nascent online market, the auto parts industry has experienced significant growth in its e-commerce presence. Recent studies* indicate online sales of auto parts will reach $ 6 billion in 2015, with forecasts to top over $ 7 billion by 2016. Auto parts retailers need to prepare for this very real and significant threat. After all, Amazon already carries more than two million products aimed at the click-and-repair customer.
360pi, the leading provider of price and product intelligence for retailers and brands, today announced pricing trends in auto parts from February 24 to March 24, 2015, analyzing a sample of Amazons assortment of over 30,000 SKUs on available products, before shipping.
According to 360pis pricing data:


Tradition still rules in nascent online automotive market
360pis analysis showed the absence of significant assortment overlaps among sampled online sellers. This points to a relative traditionalism still prevalent in this category. In many cases, auto parts retailers still have exclusive, dedicated relationships with brands and feature mostly unique assortments. As well, many auto parts brands are highly specialized on one or a few specific product sub-categories.
Brake components are a leading indicator of what lies ahead
Different sub-categories and retailers move at different paces when it comes to ecommerce penetration and brake components are at the vanguard of online auto part sales in terms of available assortment and competitive pricing. And Amazon appears to have taken notice, offering the same or lower price on brake parts than AC Delco and Wagner 75% or more of the time per 360pis sample set.
Environmental charges make an impact
Core charges are a fee or a deposit required at the time of purchase, which is then refunded when the old or replaced part is returned to the retailer to be recycled, remanufactured and sold again. For online pure play retailers like Amazon, these core charges create a price disadvantage because they cannot accept a returned part.
As we have observed across several categories with significant e-commerce penetration, Amazon does not aspire to be the lowest price, but rather the fastest follower of the lowest price to reinforce perceived price leadership in the market and maximize margins, said Jenn Markey, vice president of marketing, 360pi. We expect that Amazon will apply this proven strategy to the entire auto parts category once they learn the dynamics in key sub-categories like brakes and refine their algorithms accordingly.
Click here to subscribe and receive 360pis complimentary category-specific benchmark pricing reports.
Hedges and Company, Auto Parts: Online Sales to Break $ 6 Billion in 2015, November 21, 2014
About 360pi

360pi derives profitable insights from product and pricing big data to help leading omnichannel retailers, etailers, and brand manufacturers compete and win with shoppers. 360pis customer base accounts for over $ US200 billion in annual product sales and includes Ace Hardware, Build.com, and Overstock.com, along with several Fortune 500 consumer products companies. With the majority of in-store purchases being influenced online, 360pi helps retailers and brands successfully navigate the multi-channel landscape with real-time insight into who is selling what, where, and for how much. Ultimately, this lets 360pi customers make smarter decisions faster to drive increased revenues and margins across all channels.