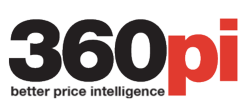 Ottawa, Canada (PRWEB) November 13, 2012
Price Monitoring Company, 360pi, announced today that it has been selected to participate in the 48 hours in the Valley program put on by C100. The event is a bi-annual occurrence that brings together 20 of Canadas hottest early stage companies and takes them to Silicon Valley to participate in a two day program that includes networking, mentorship opportunities, workshops, strategic partner visits, and investor meetings.
The C100 was formed in 2010, when a group of highly successful Canadian entrepreneurs in Silicon Valley joined together to support the next generation of Canadian entrepreneurs, and help build the next billion-dollar Canadian Tech Company. The organization is a not-for-profit and is completely member driven. The 48 hours in the Valley program was designed to bring promising Canadian startups to Silicon Valley and give them tools, mentors and strategic introductions to help them succeed.
We at 360pi are honored to have been selected as one of the 20 promising Canadian startups and we are excited to head to the West Coast and spend some time in the Valley says 360pi CEO, Alexander Rink, it is a great opportunity for us to meet strategic people and gain valuable knowledge that will help take 360pi to the next level.
The event will take place from November 12th-14th and is hosted in partnership with the Canadian Consulate of San Francisco and Palo Alto.
About 360pi:

360pi, a global leader in retail price intelligence, delivers online competitive monitoring solutions that give retailers complete visibility into their competitors' prices and assortments. Top retailers use 360pis industry-leading match and accuracy rates made possible by its proprietary artificial intelligence and cloud-based, Big Data capabilities to enhance their pricing strategies and enable margin and revenue increases of up to 80%. For more information, contact 360pi.
About C100:

The C100 is a non-profit, member-driven organization that promotes Canadian technology entrepreneurship through mentorship, partnership and investment.