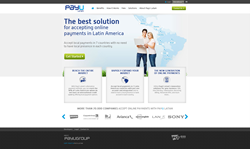 Fort Lauderdale, FL (PRWEB) July 30, 2014
The recent integration of 3dcart and PayU Latam will offer Latin American retailers an enhanced shopping software platform partnered with a major player of payment processing. PayU Latam has more than 20,000 clients in Argentina, Brazil, Colombia, Chile, Mexico, Panama and Peru. There are a number of ways PayU Latam uses innovative solutions for retail merchants and business: SDK, One Click Buy, Tokenization, Recurring Billing, Advanced APIs, and much more. Major companies accept online payments with PayU Latam. Some of them are Sony, Groupon, LAN, OpenEnglish and Avianca. The recent integration of 3dcart software with PayU Latam as a pavement gateway will extend and enhance the functionality of many ecommerce retail owners.
One of our best interests is to offer our clients as many ways to integrate with our payment platform in order to accept online payments in Latin America. We are very pleased to have 3dcart as one of them, pointed Daniela Acosta, Marketing Manager for PayU Latam.
We are very pleased to extend our services into Latin America said Joe Palko, Chief Marketing Officer for 3dcart, retailers will be able to take advantage of our enhanced shopping functionality and benefits, including social media marketing, for their retail websites, while using the excellence of payment processing from an international industry leader in PayU Latam.
We have come quite far, since 1997, in many ecommerce functions, uses & aspects, states Palko, offering online store enhancements such as fraud watch, the addition of multiple and international pavement gateways, integration with eBay, outstanding merchant-focused customer service, content and social media marketing and a host of other benefits and advantages over the run-of-the-mill retail website shopping cart.
About PayU Latam:
PayU Latam is a leading online payment service provider in Latin America. With more than 10 years in the market, PayU Latam has the most complete anti-fraud module in Latin America and offers the New Generation of Payment Solutions allowing its clients to accept payments through credit cards, bank transfers and cash deposits with more than 70 payment options available in Argentina, Brazil, Colombia, Chile, Mexico, Panama and Peru.
Headquartered in Bogot