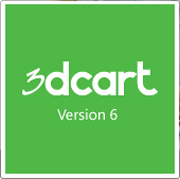 Fort Lauderdale, FL (PRWEB) April 24, 2014
The major search engines, such as Google, are constantly changing their algorithms for how they rank websites, according to Joe Palko, chief marketing officer. There are certain things that website owners need to do with their sites in order to meet the search engine's requirements and this latest release builds in many tools that help our merchants do just that.
Beginning immediately, 3dcart customers can take advantage of the following SEO features that are included with all packages at no additional charge:
Canonical URLs – canonical tags that instruct search engines as to which page should be indexed to avoid a store owner from receiving a duplicate content penalty resulting from identical pages from being indexed.
Simple 301 Redirects – a new and improved way to let the search engines know that a previously indexed page has been removed and visitor traffic should be redirected to a replacement page within the website.
Easy Sitemap Creation & Search Engine Submission – store owners can now have more control over their sitemap allowing them to easily re-submit when new pages have been added, removed or updated. In addition, it is now easier for the sitemap to be submitted to Google and Bing once changes have been made.
Product Page Rich Snippets – allows the store owner to display additional information within the search engine results allowing for a better search experience for the customer. Examples of the types of data that can be included are product reviews, pricing information and more.
Product Open Graph Meta Tags – allows the store to pass more detailed information about individual products when visitors share product URLs with social media sites such as Facebook, Google+, Pinterest and others.
In addition to these additional SEO features, 3dcart version 6.2 also introduces Google Universal Analytics, the next generation of real-time site statistics from Google that gives store owners even more insights into visitors activity once on-site. Also included is a search engine friendly update to site pagination as well as the introduction of new custom filename capabilities to the Shop by Brand feature within 3dcart.
These latest additions make 3dcart one of the most powerful eCommerce platforms available for businesses looking to sell product online. For more detailed information on this latest release, please visit the 3dcart blog at http://blog.3dcart.com/3dcart-version-6-2-search-engine-optimization-features/. For more information on 3dcart, and to sign up for a free trial, visit http://www.3dcart.com. 3dcart is also one of the only shopping cart software platforms to offer in house marketing advice and services to their customers at http://sem.3dcart.com.
About 3dcart:

Founded in 1997, 3dcart is a complete and robust ecommerce platform designed to help e-store owners thrive in a competitive market. With hundreds of features built directly into its software, online merchants can effectively open, operate and maintain a successful online store with relative ease and efficiency. 3dcart currently powers tens of thousands of eCommerce merchants, and its support team is always available, at no additional cost, 24/7/365. 3dcart is an Inc. 5000 company, a Visa PCI Certified provider and a pioneer in mobile commerce and social media marketing. Fully scalable and completely customizable, 3dcart continues to be the eCommerce solution of choice by industry experts all over the world.