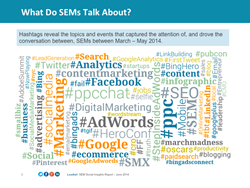 San Mateo, CA (PRWEB) June 09, 2014
3Q Digital, an independent, award-winning digital marketing agency, will join forces with Leadtail, a social media strategy and insights firm, in presenting a truly unique webinar, How Search Marketers Engage on Social Media, on June 12, 2014 at 12 pm Pacific / 3 pm Eastern time.
David Rodnitzky, CEO of 3Q Digital, will moderate a presentation and discussion with Carter Hostelley, CEO of Leadtail, about Leadtails upcoming social insights research on search marketers. Specifically, the webinar presentation will exclusively preview insights into:


Which topics and conversations are most engaging to search marketers?
What sources of content do they consume and share?
Which publications are most popular with search marketers?
The research presented will also include the top 25 people most frequently retweeted by search marketers on Twitter.
With the expanding intersection of search and social media, its becoming more important than ever for search marketers to leverage social media not only for ad campaigns, but also for building awareness, sharing expertise and best practices, and developing relationships, Rodnitzky said. With that in mind, were excited to team up with the experts in social insights, Leadtail, to offer a preview of their upcoming social insights report on search marketers.
"Were honored to have David moderate the presentation and discussion of our social insights research on search marketers, Hostelley said. David not only runs a large and successful digital marketing agency but is an acknowledged expert and thought leader on SEM and Social Advertising.
To get these insights, Leadtail analyzed the Twitter activity of 521 search marketers, including 105,121 tweets and 55,615 shared links, during a 90-day period from March 1 to May 31, 2014.
Register now for this webinar: How Search Marketers Engage on Social Media.
About 3Q Digital
3Q Digital is a leading digital marketing agency headquartered in Silicon Valley, with offices in downtown San Francisco, San Diego, Chicago, and Burlington, VT. 3Q Digital has a strong track record of forging deep partnerships with innovative, growth-driven companies through best-in-class customer service (EQ), dynamic and evolving strategies (IQ), and repeatable, proprietary methodology (XQ). Their services span across SEM, Social, Display, SEO, Mobile, Analytics, and Video advertising. Originally founded in 2008, 3Q Digital's senior team is led by David Rodnitzky (Founder & CEO), Will Lin (Co-Founder & Partner), Dave Yoo (COO), and Scott Rayden (CRO).
For more information, visit http://www.3QDIGITAL.com or email info(at)3QDIGITAL(dot)com.
About Leadtail
Leadtail is a social media strategy and insights firm that has developed social strategies for leading business brands and innovative companies such as: WageWorks, Adaptive Insights, NetBase, and PunchTab. Using our proprietary Social Insights Technology, we also develop social insights reports on decision makers such as Marketing Executives, HR Executives, and CFOs, and these reports have been referenced in media and industry publications including: The Wall Street Journal, Business Insider, Forbes, Huffington Post, Adweek, MarketingProfs, AllTwitter, CMSWire, and ERE.
For more information, visit http://www.Leadtail.com and follow us on Twitter @Leadtail.