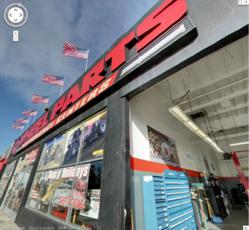 Compton, CA (PRWEB) February 06, 2013
The 4 Wheel Parts Redondo Beach store debuted its Google Maps Business Photo feature, a virtual tour of the showroom displaying the entire layout and allowing users navigability to zoom in or out to view off-road running boards, lift kits, tires and wheels. Accessible from the Google Maps page, the tour depicts high resolution images of products for off-road vehicles, allowing users interactivity. Products the store carries include tires, lift kits, winches, and shock absorbers and the virtual tour is an ideal way for 4×4 owners to see specific brands. They can even enter the service facilities to view 4x4s being worked on and get a sense of the 4 Wheel Parts store premises.
The vote is in and reaction to the online feature has been overwhelmingly positive. A customer came in and told me hed checked out the layout of our store on Google and saw that we had the winch he was looking for, says Redondo Beach 4 Wheel Parts Store Manager Erik Bauhofer. People really like the new online feature. 4 Wheel Parts is planning on making this unique feature available for more of their 50+ store locations. Competitors such as Pep Boys are not offering Google Maps Business Photos of their locations at this time.
Google Maps Business Photos are a great way to conveniently access a brick and mortar store online. Users can zoom in and move 360 to interact with a space and examine products. The images appear on Google in searches, maps, and Google+ and can be embedded on business websites and social media pages. Customers have the ability to find images and then share them with others.
E-commerce has revolutionized the way people shop, and although purchasing online is preferred, brick and mortar stores are still vital for certain uses. The virtual tour combines the best of both worlds, allowing customers to window shop a showroom on the Web. This is the latest innovative offering 4 Wheel Parts has for off-road enthusiasts who rely on the retailer for pivotal products and standout service.
About 4 Wheel Parts: 4 Wheel Parts is a retailer and service provider specializing in aftermarket parts for off-road and 4×4 enthusiasts. With 56 locations nationwide, 4 Wheel Parts supplements its retail centers with a robust mail-order and e-commerce distribution network to serve customers around the country and around the world. 4 Wheel Parts carries a large inventory of truck and Jeep parts, including fender flares, tonneau covers, tires, winches and more.