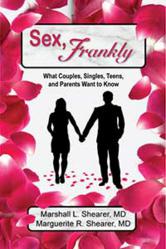 Roanoke, TX (PRWEB) October 17, 2012
Publisher Fresh Ink Group announces October 18-21, 2012, as the free Kindle e-book giveaway dates for the new, fully updated edition of Sex, Frankly: What Couples, Singles, Teens, and Parents Want to Know by Marshall L. Shearer, MD, and Marguerite R. Shearer, MD. More than a passing fad, quips Marshall Shearer, sex seems to have become more popular than ever in the 40 years since we released the first version of our sex-education and sex self-help guide.
Authors of Maximizing Happiness Through Intimate Communication ($ 12.90, Fresh Ink Group), the Sex Help syndicated column for 23 years, http://www.DocShearer.com postings, and more, the Shearers bring nearly a century of combined expertise to relationship counseling and education. Married since 1961, they conducted lectures and discussions for groups up to 2,000 as faculty of the University of Michigan in the 1960s. That led to the 1972 Harper & Row publication of Rapping About Sex, a bold new resource for sex information.
Throughout decades answering readers questions for sex education and sex self-help, the Shearers noted how many families still treasured that first edition. Many relied on it year after year, passing it to each new generation. People will always seek sex information, ask questions, experience problems, confront issues, and wrestle with choices, Marshall notes. We all want our relationships to be successful and fulfilling.
The Shearers decided to work with Fresh Ink Group (FIG) to put out the newly titled edition for the 21st century. Lots of information needed to be updated and expanded, such as current facts about birth-control options and sexually transmitted disease (STD). We shocked some people back then, Marshall notes, as one of the first offering content like explicit instruction for women to conduct their own breast exams. Now Sex, Frankly also explains testicle exams for males, urging adolescents to begin by the age of 14.
The first edition was targeted at a college-age and young-adult through parenthood audience. The new book has expanded to cover issues targeted at young teens through aging seniors. Topics in Sex, Frankly range from love and intimacy to body and mind and heart. Readers will explore the meaning of love, the how-tos of sex in myriad forms, puberty, menstruation, masturbation, compatibility, intimate relations, physical limitations, contraception, marriage, pregnancy, common problems, the sexual development of children, and more.
The Shearers bring a long history of unique expertise to pioneering sex education, sex therapy, and sex self-help. In 1970, they were recruited by the Masters and Johnson Institute for two years of research and couples therapy. He trained professionals in treating sex problems. She headed up the fertility clinic.
Marshall is a Board Diplomat of the American Association of Sex Educators, Counselors, and Therapists (AASECT). He is Board certified in both Psychiatry and Child Psychiatry. Marguerite is Board certified in Family Medicine and Medical Management. She has headed practices in obstetrics and gynecology.
The new edition of Sex, Frankly follows the Fresh Ink Group 3rd Edition release of the Shearers popular relationship book, Maximizing Happiness Through Intimate Communication, which offers a complete system for growing the most rewarding relationships.
Sex, Frankly is normally priced at $ 6.90 ($ 11.70 Trade Paper Cover). The free Kindle Edition distributed by Amazon.com [insert date], 2012, is readable on all Kindle readers, iPhone, Android devices, BlackBerry, PC, Mac, and any device running the Kindle Reading App available free at Amazon.com.
Readers and writers who register for no-cost membership with Fresh Ink Group are alerted to free-book promotions by the Shearers and other FIG authors. Contact Fresh Ink Group at (817) 488-1448, at info(at)FreshInkGroup(dot)com, or by writing to P.O. Box 525, Roanoke, TX 76262.