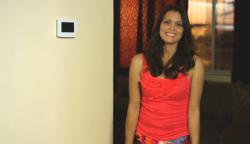 Burbank, CA (PRWEB) September 17, 2012
981 Media, in conjunction with Venstar Inc., today launched the second video in its ColorTouch TV video series, which helps consumers easily program and customize their ColorTouch Wi-Fi Thermostats. The series includes 10 different how to videos designed to walk consumers through easy, step-by-step instructions on how to make the most of their ColorTouch Wi-Fi Thermostats. Available online now, the second video is titled, Setting Up the Nighttime Dimmer.
In this episode, ColorTouchTV host Arloa Reston shows users how to set up the nighttime dimmer feature of the ColorTouch Wi-Fi Thermostat. She shows how to dim the thermostat or to set it so that it is completely dark, a feature especially designed for light sleepers.
"This video makes it fast and easy for users to learn how to program their ColorTouch Wi-Fi Thermostats dimmer feature, which includes complete darkness for light sleepers a feature added in direct response to user requests. This video really helps because ColorTouch is such a visual product," said Austin Brooks, the creative director at 981 Media. Just telling consumers how to program the product is never as effective as showing them, which is exactly what we do in this new video series to help ColorTouch users get the most out of their thermostats.
With more than 3 billion hours of videos watched each month on YouTube alone, the demand for video is increasingly becoming an essential part of online marketing and education.

To view all of the ColorTouch TV videos, visit http://www.venstar.com/tv/.
About 981 Media
981 Media is a Los Angeles marketing company that has long offered several unique promotional services to business owners looking to promote and market their brands. The company was founded with a focus on client needs, which has led to the success they enjoy today. They serve companies who want the very best marketing tools around and specialize in using multiple forms of media to promote them. As a Web Design Company in Los Angeles, they create high-quality content that is search engine optimized, which leads to websites that get noticed.
981 Media also offers corporate video production, corporate photography, mobile apps, and much more. They chose their name for its ability to represent what they give to their clients. The numbers 9, 8, and 1 mean completion, fulfillment, abundance, power, creativity, and confidence. 9 is also the square root of 81, and together they symbolize synergy and maximized outcomes. To learn more, give them a call at 877-981-6334 or get in touch at http://www.981media.com.
About Venstar
Founded in 1992, Venstar Inc. is a leading thermostat and energy management system (EMS) supplier, known for providing value to its customers via ease of use and installation, proven cost savings, improved energy efficiency, quality and reliability. Venstar is one of the largest thermostat suppliers in the world and designs and produces Venstar-branded products, as well as OEM thermostat products for the biggest names in HVAC. Venstars Surveyor is a leading energy management system, typically saving small-box retailers 25 percent of their energy costs, which translates to millions of dollars in savings and dramatic reductions in C02 emissions. Surveyor currently controls the energy usage of more than 14,000 retail locations across the United States, Mexico, Puerto Rico, and Canada.
Visit Venstar: http://www.venstar.com