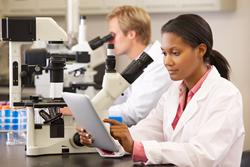 Albuquerque, NM (PRWEB) February 26, 2014
Cancer-Code Corporation (C3) announces the issuance of U.S. Patent No. 8,656,930 on February 25, 2014. The 930 patent, entitled Method and System for Processing Cancer Cell Electrical Signals for Medical Therapy, covers a breakthrough technological approach to eradicating cancer in humans and animals. This is a foundation patent in the burgeoning field of bioelectronic medical applications, specifically for treating cancer patients.
The targeted cancer therapy described in the patent takes advantage of the ability of tumor/cancer cells to communicate with one-another. This makes it possible for the treatment-codes to be transmitted from cancer cell to cancer cell, wrecking and shutting-down the cellular electrical communication process. C3's initial cancer killing trials will focus on breast, lung and prostate cancer implanted on rodents. From there C3 will proceed to demonstrate its technology on additional cancers and will move quickly to commercialization of the new treatment.
This innovative cancer killing technology has the potential to supplant current cancer chemotherapy and radiation approaches of treatment, and represents the dawn of an entirely new approach to cancer treatment that utilizes tiny encoded signals (i.e., treatment codes) to quickly destroy cancer by apoptosis and/or karyorrhexis. This new and exciting bioelectronic medical breakthrough is based on the well-researched and known fact that cells communicate. This fact supports our breakthrough approach and objectives to signal cancer cells to kill themselves, while causing no adverse effects to surrounding healthy cell tissue.
C3 is the exclusive licensee of key intellectual property from Neuro Code Tech Holdings, LLC (NCTH) to market and sell the cancer treatment technology in the United States and China. NCTH has developed and owns key patents and applications for this ground breaking technology. The C3 cancer treatment approach is described in the 930 patent and five (5) other issued and pending patents as follows:
U.S. Patent No. 8,315,712 entitled Hybrid Scientific Computer System for Processing Cancer Cell Signals as Medical Therapy
U.S. Patent Application Serial No. 12/334,212 entitled Method to Switch-Off Cancer Cell Electrical Communication Codes as Medical Therapy.
U.S. Patent Application Serial No. 12/936,778 entitled System and Method to Elicit Apoptosis in Malignant Tumor Cells for Medical Therapy.
U.S. Patent Application Serial No. 14/182,417 entitled Method and System for Processing Cancer Cell Electrical Signals for Medical Therapy
U.S. Provisional Application filed February 14, 2014 entitled Encoded Bioelectronic Method and System for Slaying Cancer by Rapid Triggering of Cellular Apoptosis and Karyorrhexis [Titled edited]
About Cancer-Code Corporation (C