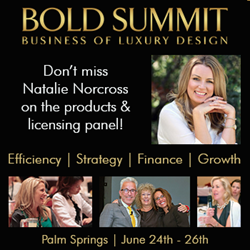 Westlake Village, CA (PRWEB)
July 09, 2015
In the creative industries, the reward is often the work itself. People in design will tell you they didnt choose that path, rather their mentality and the need to create made it their fate. But professional fulfillment is only one part of the equation. At the end of the day, compensation also has to be considered. Two weeks ago A Design Partnerships founder Natalie Norcross moderated a panel in Palm Springs at BOLD Summit to educate designers on licensings power to create long-lasting revenue.
Norcross took the rather complex topic of negotiation and licensing and made it translucent. Leading a panel of other licensing professionals, she prepared attending designers with what they should know and expect before getting into licensing and how to close agreements to their greatest benefit.
When designs are project based versus product based, for example the business of interior design, revenue is directly tied to the number of projects going on at any given time. However, time is a limiting factor, meaning potential revenue is capped by how many projects a designer can manage simultaneously. What is the interior designer to do? Accept that their possible income has plateaued? Hire a staff so they can take on more jobs?
A Design Partnership educates their clients on both the value and the key components of licensing contracts, with which Norcross background as an interior designer has given her great insight. During her career she negotiated lucrative licensing deals from which she still receives revenue. When negotiated properly, licenses give designers residual revenue for as long as the items are being sold and forge lasting relationships between designers and manufacturers. Norcross clients have reaped the benefits, both financially and strategically, of the strong partnerships that licensing has brought them.
May was a record breaking month for the firm, as they happily reported that they finalized more contracts than any month thus far.
The buzz surrounding the dynamic young agency led the BOLD Summit organizers to invite Norcross to moderate the panel on licensing at this years event. Natalie enjoyed the opportunity to broadcast her message to an audience of her peers saying, I feel blessed to have shared in the success of my clients and am excited to help our industry grow.
About A Design Partnership

A Design Partnership is a branding and marketing agency comprised of leading minds from the worlds of fashion, advertising and media. We are tailors, specializing in outfitting the creative industries with innovative and comprehensive digital marketing, public relations, creative brand strategy, licensing and design brokering services.
About BOLD Summit

BOLD (Business of Luxury Design) Summit, is a yearly conference focused on educating designers on the leaders and latest trends in the luxury market.