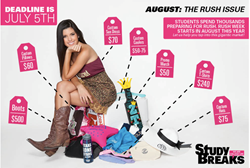 Austin, TX (PRWEB) July 03, 2013
Greek life is a tradition as historic as college itself, and what used to be classified as a symbol of one's wealth and/or elevated social status is now generally practiced by many as a core part of the collegiate experience for many students. To most small businesses aimed at the college market, the Greeks represent the holy grail of target demographics: they are united, wealthy, and almost always arrive in bunches. Here Study Breaks College Media–a leading college media entertainment company–teams up with three of the nations top Greek marketers to present a webinar breaking down marketing techniques, sales pitches, and overall business strategies to utilize when marketing to this large, powerful and profitable demographic.
The Experts
-Andrew Citores, Jus College
Jus College is a self proclaimed "one-stop shop" when it comes to students interested in the more lively aspects of the collegiate experience. They specialize primarily in the student travel and entertainment market and have actively penetrated the Greek demographic in over twenty universities as the self-proclaimed easiest way to plan, book and organize a social experience.
-Chad Hart, Inertia Tours
Inertia Tours is a student travel company designed to aid students in their Spring Break excursions to destinations such as South Padre, Cancun and Panama City. Chad's main philosophy is to provide students with an affordable option for visiting some of the most popular Spring Break destinations on the planet.
-Bryant Aplass, Explosion Sportswear
Explosion Sportswear is a promotional design and apparel company dealing in the Greek market that currently has a presence in all fifty states. Retail Merchandiser Magazine recently dubbed them as one of the premier Greek apparel providers nationwide.
Summer Marketing
Its an undeniable fact that Greeks commonly have a lot of t-shirts created and made. One way to stay connected to this market and capture their business is by holding demos at the national Greek conventions. Another strategy is even going so far, as an apparel company, to sponsor certain chapters.
When it comes to trip planning, theres no doubt that there is a definite drop-off in the summer months. Chad Hart of Inertia Tours suggests using this time to strengthen operations and increase Google reach. After all, for Greek organizations to utilize a company, they have to know about itand most likely that is going to be through Google. Then, of course, once they use a service, its crucial to provide them with a flawless, fun time to ensure theyll be back the next year and promote the great company by word of mouth. By using the summer months to tighten up operations, a company can ensure thatcome crunch timetheyll perform perfectly.
The expert behind Jus College, meanwhile, focuses on building long-lasting relationships with Greeks, as they work with them multiple times a year on fraternity formals, local events, banquet dinners, etc. Its recommended that businesses build a personal relationship and keep the communication going year roundincluding the summer months.
Applying New Media
Bryant of Explosion Sporstwear cites the aesthetic advantages of using new media and filming his t-shirt design processthen posting it on YouTube and using it as a promotional device to raise awareness about and interest in his company.
Meanwhile new media such as photos and videos can also be utilized as a sales tool, as exemplified by Inertia Tours. If a student or Greek organization is on the fence about whether they want to take a trip, they can simply be directed to the companys YouTube page, where they can browse hundreds of videos from previous trips. A few minutes of watching vacationing college students have a great time can be very convincing and definitely inspire others to take the leap and commit to the trip in hopes of having a great time as well.
The bottom line is that its undeniable that YouTube is a great way to promote these videos. If a company simply hosts them on their site, theyll only be seen by visitors to the site. Meanwhile the reach of YouTube makes it a great way to get in front of and connect with college students.
Employing College Reps
To truly promote a company, one good strategy is employing college reps. Its much more relatable (and convincing) for studentsespecially ones as closely knit as those in the Greek communityif they are speaking to someone their age testifying on behalf of the brand as opposed to a random older figurehead. Theres a huge difference between hearing a friend say Hey, this is what were going to do this year and hearing suggestions from a stranger affiliated with a company. The word of mouth makes all the difference.
The Importance of an Expansive Product Line
Another great way to capture the business of a campuss great community is by simply offering products that cant be found on different sites, in different stores, etc. For a business, stocking the it brands before theyre mainstreamthrough research and trend forecastingensures that when they suddenly become wildly popular, the business will be the go-to for Greeks desperate for a certain product or brand. The key is truly knowing the demographic, going to conventions to discover new products and brands, and simply being ahead of the trend.
Click here to watch the entire webinar now!
Study Breaks College Media provides a one-stop solution for small businesses, providing them with big marketing strategies and delivering college students.
Study Breaks magazine is an award-winning line of monthly entertainment magazines for college students with a mission can best be explained through its slogan: We are college life. Published by Shweiki Media Printing Company, it is distributed in five Texas cities (Austin, Houston, San Antonio, San Marcos and Lubbock). (Studybreaks.com)