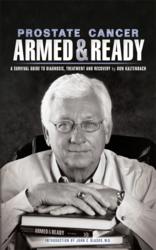 Sarasota, FL (PRWEB) October 17, 2012
Prostate cancer survivor and activist Don Kaltenbach announced publication of his new guidebook for prostate cancer patients. Prostate Cancer: Armed and Ready: A Survival Guide to Diagnosis, Treatment and Recovery is the most comprehensive and up-to-date book on this disease, examining the most recent medical studies to help patients evaluate all their treatment options. The book surveys the entire range of currently available treatments, examining the pros and cons of each including state-of-the-art Intensity Modulated Radiation Therapy (IMRT), Brachytherapy, Cryotherapy, Proton Beam Therapy, Robotic Surgery and Hormonal Therapy.
According to Kaltenbach, who was successfully treated for a recurrence of the disease, Despite the increased media attention prostate cancer has received in recent years, many men remain uninformed about the disease and their treatment options. It can be a great comfort for newly diagnosed patients to know someone who has gone through the same ordeal they face. Because doctors treat so many cases (more than 200,000 a year), there is a tendency to develop an impersonal or mechanical view of the patient. Doctors primarily treat the body, but with a life-threatening disease, the emotional impact can be just as devastating as the disease itself. This is especially true for prostate cancer. Not only do men confront the disease, they also face the threat of life-affecting complications after they are treated. So its both your life and lifestyle on the line.
Kaltenbach was initially treated in 1990 with radioactive seed implants (Brachytherapy), which was experimental at the time and has since become a mainstream treatment of choice. After his cancer returned in 2007, he was treated successfully with Focal Cryotherapy, an innovative treatment that allowed him to preserve his lifestyle without long term surgical side effects. A former lawyer, Kaltenbach was a cofounder and served as the Executive Director of the renowned Dattoli Cancer Center & Brachytherapy Research Institute in Sarasota, Florida from 2000 to 2008. He also founded the Prostate Cancer Resource Network, a non-profit organization with a mission to inform and educate the public about the disease.
His new book continues that personal mission. Knowing what to expect is one of the keys to beating this disease, says Kaltenbach. Patients who become informed will be armed and ready to win the battle against prostate cancer. We want to prepare men and their families for the journey ahead of them, regardless of which particular treatment they may choose for themselves. We want them to be fully informed and able to work proactively with their doctors.
Prostate Cancer: Armed and Ready provides a thorough discussion of treatment risks and effectiveness for every stage of prostate cancer, including recurrence, and provides essential questions for each patient to ask his doctor. Several chapters are devoted to counseling couples on coping with the disease emotionally and physically, including the latest dietary and nutrition guidelines. The book also contains a medical glossary and an extensive resource directory that lists organizations offering support services to prostate cancer patients and their families.
The book is now available on Amazon as both a Kindle Ebook and paperback edition, and is also being offered free of charge for a limited time to prostate cancer support groups. Additional information can be obtained from the web site where the author can be contacted and maintains a monthly blog.