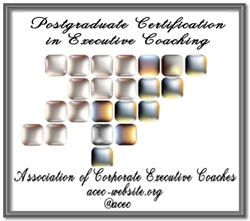 (PRWEB) March 25, 2014
When Super Stars and Super Heros are all the latest buzz because of their ultimate and legendary status, ACEC wants their members to have access to the same statureSuper Star Coaches.
In order to accomplish this objective, ACEC rose to the challenge posed by the 2014 Sherpa Executive Coaching research report, which stated that organizations believe: There is room for improvement in the eyes of those who hire and work with coaches. HR & training professionals say that only 35% of coaching is excellent, 57% is good, and 8% produced fair or poor results.
CB Bowman, CEO of ACEC, and a team of academic advisors designed a postgraduate certification that will certify coaches as the best of the best! Bowman said, While ACECs Master Corporate Executive Coach (MCEC) credential already surpasses industry standards, ACEC felt the need to recognize an even more accomplished level for those coaches who continue to surpass the already high standards recognized by their MCEC. This new level recognizes, motivates, and helps to ensure that executive coaches who seek this credential remain current regarding coaching competencies, new business enhancement, and technology, i.e., digital marketing. This is in addition to supporting the next generation of coaches and leaders. Further, this new level is meant to provide corporate executives, talent managers, and human resources decision makers with a higher options of excellence to select from outside of the usual suspects, where cross pollination may result from using the same coaches your competitors are using, said CB Bowman.
Focusing on a combination of coaching mastery, which includes competencies, business knowledge, volunteerism and technology, ACEC has created a stringent set of criteria that gives increased legitimacy to the coachs experience and knowledge, it also recognizes his or her intense support of our professional community, and willingness to be fearless about breaking the norms for the betterment of their clients. This certification will inform their colleagues and clients of their elite Super Star status.
The elite status of the PCEC, which is designed to meet the higher coaching standards demanded by clients, is aligned with ACECs desire to surpass industry standards and remain on the cutting edge of credentialing in the executive coaching industry. Professional requirements include 80 CEUs over five years, and consist of a blend of professional competencies, mentoring, pro-bono work, technology, and business development. This certification gives further credence to the experience, professional academics and dedication to community that top Executive Coaches have shown to the profession and their clients.
This new certification carries with it rigorous and diverse re-certification requirements: