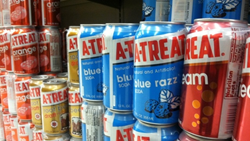 ALLENTOWN, Pa. (PRWEB) April 21, 2015
Allentown businessman Paul Eifler has reached a memorandum of agreement to purchase A-Treat Bottling Companys name, trademark, flavor formulas and related intellectual property to revive the product and its position in the marketplace. Within the next 90 days, Eifler and his team will reconnect with staff and distributors, select a third-party bottling service, establish a warehouse and office location, commence test runs for quality assurance and produce eight classic A-Treat flavors in time for the public to enjoy them this summer.
Im thrilled to keep A-Treat soda flowing in Lehigh Valley, Philadelphia, New York, New Jersey, Delaware, Maryland and beyond, said Eifler. A-Treat means so much to our community, which was obvious by the outpouring of public response when production was stopped. We want to elevate the brand to new levels of success and I will do everything in my power to ensure A-Treats viability and continued presence in our community.
Production will start with eight classic A-Treat flavors, which will be announced in coming weeks. The public can look forward to future announcements for the release of additional A-Treat favorites and brand new flavors and line extensions. A tasting and quality review board will be assembled to give the public a say in the process.
Eifler reached a confidential and private sale terms and conditions agreement to purchase A-Treat from the Garvey / Egizio family, which has owned the company from its founding in 1918 until operations shut down in January 2015. The family will continue to play an integral role in the company as advisors.
The Garvey / Egizio family have kept the torch burning for almost 100 years, said Eifler. We will lean on their connections and experience as we reconnect with previous distributors and establish relationships with new ones.
Meetings with former employees and distributors will be scheduled within the next two weeks. Eifler made the decision to produce product through a third-party bottling service after evaluating the cost to restart production at A-Treats former facility on Union Blvd. in Allentown. His team has met with two third-party bottling service companies and will meet with a third this week.
Howard Lieberman, managing partner at Business & Community Financing Solutions (bcfsol.com), orchestrated the deal. Paul Florenz, partner at Kolb, Vasiliadis & Florenz, LLC (kvflaw.net), provided legal representation. Lehigh Mining & Navigation (lehighminingandnavigation.com) guided communications efforts and will begin a new marketing and public relations campaign for A-Treat.
Eifler spent more than 20 years in the flavor production industry, where he held various positions in the compounding, testing and applications of flavors used in products for major soft drink companies. He is a fixture in the Lehigh Valley community and is an active member for several area non-profit organizations. He is the President of the Board of Trustees at Fund to Benefit Children & Youth (fundforkids.org) and is on the Board of Directors at ShareCare Faith In Action (sharecarefaithinaction.org) and WDIY Lehigh Valley Community Public Radio (wdiy.org). In addition, he is a member of the Alton Park Lions Club.
###