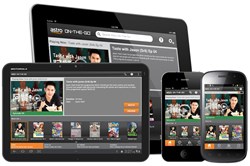 (PRWEB) September 17, 2013
Tigerspike, a Personal Media technology company, and Irdeto, a Media protection, Multiscreen and Revenue Assurance solutions provider for Pay TV, are creating seamless and secure multi-device experiences across smartphones, tablets, set top boxes, PCs and Smart TVs to make the user experience core to businesses future success.
"Empowering customers through intuitive user experiences and innovative technology is a must for the multi-device consumer today. Multi-screen behaviour is mainstream and there is now an expectation that users can consume content easily across multiple devices. We work with Irdetos best-in-class Multiscreen solution, with managed services that take the guess work out of designing, building and running a multi-screen offering. We enable organisations to deliver easy-to-view content to consumers that strengthens loyalty and drives success," adds Alex Burke, CEO Asia, Tigerspike.
Astro Malaysia, Malaysias leading pay-tv service provider, identified this need and has worked with Tigerspike and Irdeto to respond to the changing viewing habits of its customers. As customers increasingly used Personal Media devices for entertainment, Tigerspike designed and developed a suite of applications across multiple platforms to enable viewing on the go, integrating and leveraging Irdetos highly customized and secure platform. The Astro On-The Go apps have achieved number one rankings in the iOS App Store as a testament to creating intuitive, seamless functionality that changes the face of entertainment consumption.
Its clear that multi-screen has moved well beyond an experimental stage. Today, operators must provide a service that is not only smart and enjoyable, but also secure and lucrative, said Bengt Jonsson, VP Sales APAC, Irdeto. Success lies in achieving a high quality, customized end-user experience that recommends content that consumers want to watch. Irdeto Multiscreen was designed with the user experience in mind.
Irdeto launched Irdeto Multiscreen last week at IBC Show 2013, Amsterdam, a pre-integrated solution ready for branding, that reduces the risk, cost and time to market for operators to launch multi-screen services. Irdeto Multiscreen, a world-class multi-screen experience, can be deployed in as few as four weeks.
Tigerspikes portfolio of services is continuously evolving to facilitate the change in Personal Media technologies (mobile, tablet, smart TV and other personal devices). Since its launch in 2003, Tigerspike has opened offices in Sydney, Melbourne, London, Dubai, New York, Singapore and San Francisco and has over 200 staff across four continents. Tigerspikes clients include Astro Malaysia, News Corporation, Yahoo!7, Woolworths, AMEX, Suncorp, Shell, The Economist, Emirates and Sensis. Tigerspike has been in the Deloitte Technology Fast 50 2011 list for the sixth consecutive year, in recognition of being one of the fast growing Australian technology companies.
ENDS
About Tigerspike

Tigerspike is a global Personal Media technology company, specialising in consulting, user experience and enterprise grade middleware. We believe that Personal Media has the power to transform the way we live and work.
Delivering large scale consumer and enterprise solutions across mobile, tablet and other personal media platforms, we enable our clients to form closer relationships with their customers, and implement working practices that support happier more productive workforces.
Our Kallide methodology enables us to produce consistently outstanding user experiences by enabling our software engineers to work in parallel with our user experience design teams. The Phoenix mBaaS platform combined with our enterprise grade engineering skills provides seamless integration between our custom products and your business processes.
Tigerspikes clients include American Express, Westfield, Standard Chartered, The Economist, News Corporation, Shell, Merck, Suncorp, Woolworths and Vodafone. From 2003 Tigerspike has been transforming businesses from our offices in San Francisco, New York, London, Dubai, Singapore, Sydney and Melbourne by unlocking the power of Personal Media. We have been in the Deloitte fast 50 for 6 years running and are in the Forbes top 100 companies to watch.
About Irdeto

Irdeto is a world leader in Media protection, Multiscreen and Revenue Assurance solutions for pay TV operators, OTT service providers and content owners. Irdeto enables pay media companies to provide a personal media experience for their consumers, uncover new revenue opportunities and offer new forms of entertainment on broadcast, broadband and mobile networks. The company offers an advanced portfolio of conditional access, rights management, multi-screen, home networking, piracy control and business intelligence services. Irdetos success in the market is evidenced by its software security solutions being the most widely deployed in the world for pay TV on satellite, cable, terrestrial and IP networks and by helping customers preserve business value and generate new revenue with its Multiscreen services. Please visit Irdeto at http://www.irdeto.com.