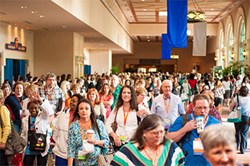 Salt Lake City, UT (PRWEB) January 08, 2014
AAPC (http://www.aapc.com), the leader in advancing the business of healthcare, has announced the launch of a new industry conference: HEALTHCON. Thousands of professionals will congregate in Nashville, April 13-16, 2014, to network with experts and address the latest trends, challenges, and advances within the healthcare industry.
For two decades, AAPCs conferences have covered all aspects of a healthcare organizations revenue cycle, including coding, billing, auditing, compliance, and practice management. While historically an event exclusive to AAPC members, the 2014 national conference will be opened to the broader medical business community and renamed HEALTHCON.
HEALTHCON 2014 will host 50+ educational sessions, including final-preparation ICD-10 training, an award-winning Anatomy Expo, and a brand new Business of Healthcare Expo (featuring interactive training in financial management, compliance, marketing, and human resources).
This inaugural HEALTHCON event will be the biggest and most dynamic conference AAPC has ever hosted, said Dixon Davis, AAPC vice president of products and events. With ICD-10 implementation months away, and healthcare reform in full effect, the launch of HEALTHCON couldnt be more timely. We invite all in the industry to join us in studying emerging industry trends and challenges, all while earning CEUs, networking with experts in the field, and enjoying the newly refurbished Gaylord Opryland Resort.
Conference registration starts at $ 745 (through January 31, 2014), and is available via the HEALTHCON website (http://www.healthcon.com). Press badges may be obtained by emailing public.relations(at)aapc(dot)com.
About AAPC:

AAPC (http://www.aapc.com) is the nations largest association for the business of healthcare, with more than 125,000 members representing health systems, hospitals, physician offices, outpatient facilities, and payer organizations. AAPC training and certifications validate the knowledge and expertise of healthcare professionals in disciplines surrounding medical coding, billing, auditing, compliance, and practice management. Industry-leading credentials include Certified Professional Coder (CPC