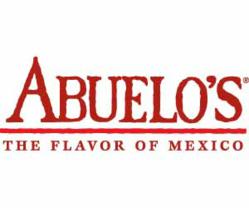 Lubbock, Texas (PRWEB) June 26, 2013
Abuelos Mexican restaurants today announced they will donate more than $ 3200 to the American Red Cross disaster relief efforts to aid the victims of the deadly tornado outbreak in Oklahoma.
Abuelos team members helped collect donations in 12 Abuelos locations and in the companys new fast casual concept, Abuelos Taqueria. Guests who brought in a flyer or mentioned the Oklahoma benefit had 20% of their purchase donated to the American Red Cross.
We were moved to help the victims of the recent tornado disasters in Oklahoma, said Jeff Dossett, Regional Partner of Abuelos. The local community showed wonderful support for the disaster victims. We are honored to be able to help the American Red Cross in rebuilding the hope in Oklahoma.
This disaster has taken a major toll on the health and livelihood of the people in Oklahoma and the Red Cross has been there to aid this state and community. Anyone who wishes to make a donation to support American Red Cross Disaster Relief may do so by visiting redcross.org, dialing 1-800-REDCROSS or texting REDCROSS to 90999 to make a $ 10 donation.
Abuelos thanks the American Red Cross for providing food, shelter and emotional support to those affected by the recent tornadoes in Oklahoma and Texas, as well as disasters of all sizes throughout the United States and the world, said Robert Lin, President of Food Concepts International.
About Abuelos

Since its first opening in 1989, Abuelos has consistently been on the leading edge of Mexican cuisine, combining menu creativity, outstanding food and beverage quality, colorful plate presentations and superior service in an impressive Mexican courtyard-themed atmosphere. Owned and operated by Food Concepts International of Lubbock, Texas, Abuelos has received national accolades as the top-ranked Mexican food restaurant and as one of Americas top overall restaurant chains in three consecutive biennial surveys by a leading national consumer rating magazine. The company currently has 41 restaurants located in 15 states throughout the United States, including the companys newest fast casual concept, Abuelos Taqueria. For more information, visit http://www.abuelos.com or Abuelos Facebook page at http://www.facebook.com/abuelos.
About the American Red Cross:

The American Red Cross shelters, feeds and provides emotional support to victims of disasters; supplies about 40 percent of the nation's blood; teaches skills that save lives; provides international humanitarian aid; and supports military members and their families. The Red Cross is a not-for-profit organization that depends on volunteers and the generosity of the American public to perform its mission. For more information, please visit redcross.org or Twitter at @RedCross.
# # #