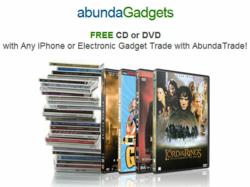 Mount Pleasant, SC (PRWEB) March 23, 2013
AbundaTrade a company based out of Mount Pleasant, SC, is sweetening each gadget trade done with the company by giving 1 complimentary CDs or DVD for each gadget traded. The reward of a CD or DVD (traders get to pick their CD or DVD from a select list on the AbundaTrade.com website) to people doing gadgets is the companys way of saying thank you for doing business with AbundaTrade.com.
AbundaTrade.com came onto the global reCommerce scene when the company opened for business in 2008. The primary focus of the company is to buy trade and sell used items including phones, laptops, sound systems, game consoles, gadgets, and more.
Established in 2008, AbundaTrade.com is proud to be a part of the global reCommerce industry. Their efforts are focused more on trading and selling of used items instead of discarding old items in favor of new ones. By concentrating on the options available through trading items, AbundaTrade.com offers its customers the opportunity to obtain items for less as well as providing an environmentally friendly way to shop. In addition to helping the environment by repurposing phones, gadgets, books, CDs, DVDs and video games, AbundaTrade.com also uses reuses packing material and recyclable shipping materials whenever possible. At AbundaTrade, they believe in being smart and mindful consumers.
High-tech electronics have been around for the better part of 20 years. Many people have several used, iPhones