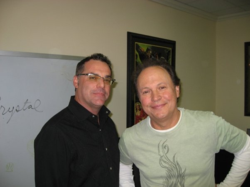 (PRWEB) February 22, 2012
Billy Crystal is a name that is synonymous with comedy and also with many important causes. He has created incredible characters such as Mike Wazowski of Monsters Inc., Harry Burns of When Harry Met Sally, Mitch Robbins of City Slickers and Larry from Throw Mamma from the Train, to name a few. His many roles on the sketch comedy series Saturday Night Live are legendary. This year, Billy Crystal makes his return as the host for the 2012 Academy Awards.
We're always very happy to work with Billy Crystal, who is not only funny, but also takes his causes very seriously; such as endorsing the Jewish University, says Producer Bob Bekian, who is also CEO of Loyal Studios where Crystal works regularly.
The eight-time Oscar host has supported the performing arts department of the Jewish University for over a decade, understanding how important it is to keep the flame of artistic freedom alive among the students. We were fortunate to have his creative force at Loyal Studios for this project. Many celebrities use teleprompters and have others write their lines, says Bekian. But Billy Crystal showed incredible professionalism and delivered his lines expertly to the camera. It's refreshing to see that level of discipline in Billy's style and work.
Another of Crystal's projects that Loyal Studios co-produced was a commercial for IBM and his involvement as host for the Impact conference in Las Vegas. Once again, Billy Crystal delivered his lines flawlessly and even added some improvisation that had the entire crew and studio laughing.
Recently Billy Crystal did a documentary produced by Bob Bekian and the BBC, which focused on the life of the famous jazz singer Billie Holiday. He spoke of his childhood growing up in New York City with Holiday as his babysitter on a number of occasions and how much she influenced his life for the better. Crystal's Uncle owned Commodore Records, which recorded many of Billie Holiday's songs. In a quote from the BBC documentary in entitled Angel of Harlem, Billy Crystal looks back with fondness as he retells of his uncle's shop on "Swing street." For my part, I am so proud that my family was involved in the record that Time magazine would one day vote 'the most important release of the 20th century.'
To learn more about Loyal Studios, please visit http://www.loyalstudios.tv
###