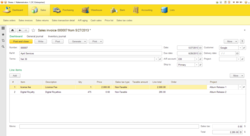 San Francisco, CA (PRWEB) May 28, 2013
AccountingSuite is excited to be a sponsor of SF Music Tech Summit XIII to take place today at Hotel Kabuki in San Francisco's Japantown.
SF Music Tech Summit is a hot bed of new music technology and one of the fastest growing music industry events over the last 5 years.
During today's event, AccountingSuite will reveal and demo it's upcoming version 1.1 which is scheduled for live release in late June.
May Madness!! All trial signups in May include six months of free access during May Music Conferences.
AccountingSuite is uncomplicated accounting, order management and inventory software for any business. Designed for the 99% of us who arent accountants, AccountingSuite makes it easier to run your business and find the information you need whenever and wherever you need it.
Making Software for Startups, Entrepreneurs and Mid-sized Businesses
AccountingSuite is a San Francisco startup funded by parent company 1C LLC, an international enterprise software group with more than 1 million business customers in Asia and Europe.
Our mission is to provide easy-to-use, no-nonsense business software for startups, entrepreneurs, and established businesses to manage their finances and day-to-day operations.
Our vision for AccountingSuite is to give you, your employees and business partners easy, secure access to company information from anywhere on the planetempowering everyone at your company with the business-critical information that often makes the difference between gaining new customers and losing them to the competition.
AccountingSuite is cloud-based for easy implementation and low maintenance costs, another way our software helps simplify your daily workflow and uncomplicate your business.
AccountingSuite wants to thank Brian Zisk and Shoshana Zisk for giving us the opportunity to be a part of this event.