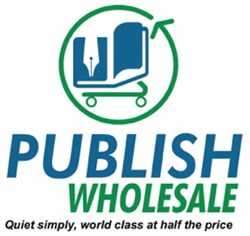 (PRWEB) October 03, 2013
International Content Management d/b/a Accurance announced the launch of its publishing services firm, Publish Wholesale (http://www.publishwholesale.com), dedicated solely to self publishing authors. The firm is geared towards individual authors seeking to self publish and promote their books, particularly the more experienced authors. PWs website showcases 17 services in the production, print publishing, epublishing, and promotional areas.
Publish Wholesale features the same enhanced prepress production services that Accurance has provided as the production backbone to some of the largest print on demand publishing services and publisher clients worldwide since 1999, including mechanical editing, hardcopy-to-digital conversion, interior page design, book cover creation, illustration, ebook conversion, and more.
In addition to production and prepress services, Publish Wholesale features new lines that focus on book and ebook marketing strategies. These services include social media development, video trailers, press releases, website creation, SEO, and content development, each offered on multiple comprehensiveness and pricing levels, as well as high-level-only services such as website analysis, commercial production and distribution, media placement services, book tours, and author coaching.
Jon Fitch, founder and president of Accurance, says PW has been in a test market phase for a number of months, but our internal metrics and author feedback have showed we have reached the target goals we established. We are pretty happy with the early results, so we are rolling out.
With a top-of-the-line customer service, as described by The Seekers author, Greg Middleton, Fitch says the new prepress self publishing firm has simple, straightforward goals: to earn the trust of author clients through high quality customer service and honesty, delivered for lower cost than can be accomplished by any other publishing services firm.
Fitch also says, We have long been focused on publishers as our main client, but the more we looked at the experienced authors, the more we realized their potential for us and our potential for them. We can afford to give our economies of scale in particular to prolific self publishing authors, at a pricing no other publishing services firm worldwide can afford, as they are not so different from our smallest publisher clients.
Since the beginning of the print on demand era 15 years ago, Accurance has been the largest independent book production house worldwide, at one time or another being the prepress production backbone of half the largest publishing services companies worldwide. For more information about Publish Wholesale and its service packages, visit http://www.publishwholesale.com, and for more information about Accurance, visit http://www.accurance.com.