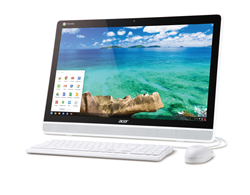 Taipei, Taiwan (PRWEB) April 01, 2015
Acer announced today the latest addition to its industry-leading Chrome OS device family, the Acer Chromebase series, complementing its existing Chromebooks and Chromebox. The touch-enabled configuration of the Acer Chromebase is the industrys first all-in-one Chrome OS desktop with touch display, continuing Acers leadership in the Chrome OS market after launching the first 15.6-inch display Chromebook and fastest-performing commercial Chromebook. According to the latest data from Gartner, Acer Group is currently the worlds leading Chromebook brand with over 36% market share in 2014.
Simple, Fast, Secure, and Affordable

The new Acer Chromebase comes with a Full HD resolution, 178-degree viewing angle display which incorporates 10-point touch technology, enabling more than one user to work, play and interact together. The device boots up in 10 seconds, and has multiple layers of security built-in with automatic system updates. Chrome OS supports multiple users and accounts while photos, videos, music, and documents are all synchronized and backed-up with the users Google account. Acer Chromebase also comes with a complimentary 100 gigabytes of Google Drive storage so users have plenty of space.
Ideal for Work or Play

The Acer Chromebase is powered by a class-leading NVIDIA