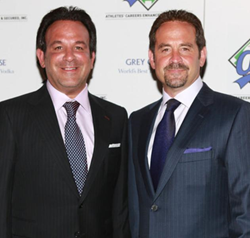 New York, NY (PRWEB) December 23, 2014
ACES Baseball Agents Seth and Sam Levinson negotiated a record-setting deal for free agent pitcher Jon Lester to join the Chicago Cubs. Lesters new contract with the Cubs includes a record $ 30 million dollar signing bonus, the highest in Major League Baseball history. The $ 155 Million contract is also the Largest Deal ever signed by a Pitcher over 30 years old and the Average Annual Value of $ 25.8 is the 2nd Highest by any Pitcher in Baseball History.
Lester, who turns 31 next month, is a three-time All-Star, who led the Boston Red Sox to World Series Championships in 2007 and 2013. Lester has a career record of 116-67 with a 3.58 ERA, plus a postseason record of 6-4 with a stellar 2.57 ERA.
The Lesters $ 155 million, six-year contract has an option for 2021 which that could push its total value to $ 170 million. ACES Baseball Agent Seth Levinson noted, Jon as a player can lead and shape a team for years and as a man can elevate the organizations brand. His performances transcend generations and he is excited about the historical challenge of bringing a World Championship to Cubs Nation.
Commenting on the deal, ACES Baseball Agent Sam Levinson said, The contract is a testament not only to Jons superlative performances, but also his ability to profoundly impact his teammates and the community.
Lester will wear No. 34 for the Cubs to honor two legendary athletes: The late, great, NFL Chicago Bears running back Walter Payton; and Lesters boyhood baseball idol, Hall of Fame pitcher Nolan Ryan.
With over 25 years of experience, Seth and Sam Levinson were recently named to Forbes Most Powerful Agents list, ranking #4 overall among agents in any sport. Lesters deal is just one in a series of hugely successful Industry setting contracts secured by ACES, Inc, which has negotiated well over $ 1 billion in contracts.
Some of the other landmark deals negotiated by ACES Baseball Agents Seth and Sam Levinson include contracts for David Wright, Dustin Pedroia, Jonathan Papelbon, Brandon Phillips and Jorge Posada. Additional information on Seth and Sam Levinson and ACES, Inc Baseball Agency is available at: http://acesincbaseball.com
For more information please contact, Shana Scala at SRS Entertainment, Shana(at)srsentertainment(dot)com