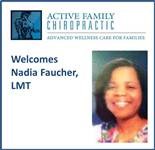 Gaithersburg, MD (PRWEB) June 16, 2013
Gaithersburg chiropractor Dr. Greg Swistak and the team at Active Family Chiropractic have recently welcomed a new massage therapist into their ranks. Nadia Faucher, LMT has joined the practice and will offer patients a unique combination of experience and technical expertise in a variety of settings. She specializes in several modalities, including Swedish, deep tissue, hot stone, aromatherapy, and reflexology. In addition, Ms. Faucher has worked extensively with pregnant women and athletes. She is also available for office massages and special events.
Dr. Swistak believes the new addition will bring real benefits to the clinics patients. I am excited to bring massage back into the office to aid in speeding healing of soft tissue injuries for patients. I have found the combination of manipulation and massage works very wellwe offer a 15-minute massage option before or after your adjustment to help you relax or to target particular trouble areas. We also offer 30-, 60- and 90-minute massage options.
For her part, Ms. Faucher is enthusiastic about the new opportunity and looks forward to working with Active Family Chiropractics patients. I enjoy making a difference in the way that people feel about themselves. Id encourage everyone to come and explore the benefits of massagewe can customize your massage according to your needs or conditions.
To celebrate Ms. Fauchers arrival, Active Family Chiropractic is offering a 60-minute massage for $ 60.00 through July 1, 2013. This represents a $ 10.00 savings.
About Nadia Faucher
Nadia Faucher, LMT is licensed in Maryland, Virginia and Washington, DC. She has seven years of massage experience and 14 years of experience working in the spa industry.
About Dr. Greg Swistak and Active Family Chiropractic
Greg Swistak, D.C. is a member of the Maryland Chiropractic Association and the International Chiropractic Pediatric Association. He is also a Fellow of the American Medical Acupuncture Society and a well-known lecturer on complementary and alternative medicine. He received his Doctor of Chiropractic degree in 1997 from the Palmer College of Chiropractic.
Active Family Chiropractic

60 Market Street, Suite 215

Gaithersburg, MD 20878

(301) 963-8333

http://swistakchiro.com

Follow Active Family Chiropractic on Facebook