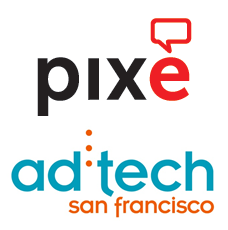 Columbia, MD (PRWEB) March 25, 2014
Pixe LLC is pleased to announce its second year of collaborating with the nations leading digital marketing event for marketing and technology professionals, ad:tech San Francisco. The official ad:tech Pixe Social Photo Booth will engage over 8,500 attendees and people in their social networks during and after the event. ad:tech SFO will be held between 26 March 27 March 2014 at the Moscone Center West, San Francisco, CA.
Pixe Social is deeply integrated in the mainframe of social sharing networks, such as Facebook, and facilitates interactive engagement to enhance the attendee experiences at events. Attendees can visit with Pixe Photo Booth mobile and iPad operators on the show floor to take their photo, type why they love the event and share their photos instantly on ad:tech Facebook Page. Users can relive their event experience by receiving a copy of their photo via email, giving them an easy means to share their photos with their own fan and friends.
At ad:tech SFO 2013, the ad:tech team was so delighted with the engagement of attendees, they decided to invite Pixe back to once again expand the social reach of the event. Since the 2013 show, Pixe Social has experienced success with leading marketing and technology events such as, BizBash, Event Tech, and the Professional Convention Management Association.
Adding a dash of fun to the expo floor further lightened the already-upbeat mood at ad:tech San Francisco 2013, said Nicole Buraglio, Marketing Director, ad:tech. Simultaneously engaging our audience through social media platforms was the icing on the cake.
In an exciting promotion, Pixe will be giving away an iPad Mini to the photo booth user who receives the most likes for their photo on Facebook by midnight of April 6, 2014. Pixe will also be exhibiting in booth 2254 and will be offering a free trial of its one-of-a-kind social marketing solution to the first fifty businesses to sign up by visiting its booth at the event.
About Pixe

Pixe LLC is a Maryland-based start-up providing turnkey social promotional solutions that is on a mission to take the challenge out of social media marketing by converting audiences into brand ambassadors. Launched in April 2013, Pixes flagship social marketing solution – Pixe Social – to help boost the social presence of a number of prominent brands and events.
About ad:tech

ad:tech is an interactive advertising and technology conference and exhibition that provides a marketplace for buying and selling, a community for networking, a forum for exchanging ideas and an opportunity for contributing to industry trends and initiatives. With a blend of keynote speakers, topic-driven panels and workshops, industry professionals receive the tools and techniques they need to compete in a changing world. For more information, visit their website.