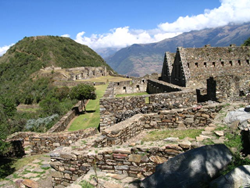 Missoula, Montana (PRWEB) February 19, 2015
The March 2015 edition of Backpacker Magazine featured two of Adventure Lifes Peru treks in its Peru x Two article. The Choquequirao and Salcantay Treks are recommended by the publication which specializes in hiking and backpacking around the world.
The author of the article, Andrew Bydlon, summarizes the two treks Choquequirao for the Solitude Lover and Salcantay for the Alpine Lover. He claims that the Choquequirao Trek is the best way to see 15th-century Incan ruins without the crowds Andrew then mentions the urgency that Adventure Life has been talking about for months, as the Peruvian government has plans in place to build a tramway to the ruins by the end of 2015. Once construction is complete, the tramway will deliver up to 3,000 people to Choquequirao each day! To put this change in perspective, this site is currently visited by just a handful of travelers per week.
As a company, we have been trying to encourage travelers to take advantage of these trekking opportunities while they are still unchanged by upcoming construction and crowds of visitors, says Adventure Life General Manager, Jonathan Brunger. We are pleased that this sense of urgency is also being recognized by Backpacker Magazine, especially for visiting Choquequirao.
To see the details of the Choquequirao Trek visit http://www.adventure-life.com/tours/choquequirao-trek-and-machu-picchu-2356 Or to see the details of our Salcantay Trek visit http://www.adventure-life.com/tours/salcantay-trek-358
To explore the world with Adventure Life, visit http://www.adventure-life.com or call 800-344-6118.
About Adventure Life:

Adventure Life is a company of travelers with a passion for sharing the world with others. Our travel experience runs deep, from years volunteering in rural Africa and Central America, to research trips in Asia, studying in Europe, guiding in the Rockies, and just bouncing around every corner of the world. This deep experience is the reason behind our pioneering approach to travel and award winning itineraries. For nearly fifteen years we have been creating personal itineraries that immerse our travelers in the vibrant colors of a place, leaving both our guests and hosts enriched by the experience. From our beginnings as a Latin America specialist, we now offer private journeys, small group tours, and expedition voyages throughout the world. We pride ourselves on our intimate knowledge of our destinations and our dedication to sharing the world.
Media Contact:

Sublime Public Relations

Steve Snyders

steve(at)sublimepub.com

406-728-4180