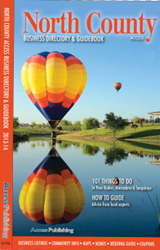 Paso Robles, CA (PRWEB) August 06, 2014
For almost 100 years, local yellow pages have been a mainstay of advertising for small businesses. With the rise of online search engines like Google, business owners should be asking themselves if traditional print phone book advertising is still valuable.
"Yellow pages are still an important part of a balanced marketing strategy," says Scott Brennan, CEO of Access Publishing, a Paso Robles-based advertising and marketing firm that produces the local phone book, North County Access, the San Luis Obispo County Visitors Guide, designs business websites, provides search engine optimization, and publishes the online Paso Robles Daily News. The deadline for advertising in the local business directory is Aug. 15.
"Having a great online presence is critical for small businesses to succeed, but you don't want to put all your eggs in one basket," he says. "Most local businesses should budget their marketing as a mix of online, print, radio, direct mail and perhaps television."
"Over the past four years we have recommended clients move more of their advertising budgets to online marketing, but print advertising is still a great way to reach local consumers," he says. North County Access is delivered annually to over 40,000 homes and businesses in Paso Robles, Atascasdero, Templeton and surrounding areas.
Brennan points to recent research: 84-percent of consumers use yellow pages every year to find business, according to Burke's Local Media Tracking Survey. Yellow pages are more trusted than search. Forty-five percent of consumers say "The source I trust most for finding local business information" is print yellow pages, compared to 41-percent for search. Forty-five percent also say the print yellow pages is "The most accurate source for finding local business information," compared to 39 percent for search.
Forbes magazine did an analysis on the question. They asked, "Should small businesses still book yellow page ads?" Their conclusion was that people, especially older demographics, do still reach for the printed Yellow Pages when they need a local business in a hurry. For instance, plumbers should think hard before they ditch their local phone books. Personal injury lawyers should also track their incoming leads closely before deciding to stop their ads. There are lots of examples of businesses that service folks with urgent needs who may benefit from staying in the books."
Those who track their advertising know that yellow pages work, Brennan says. "Just ask Paso Robles pizza restaurant owner Randy Syracuse of Marv's Pizza. They receive over 100 pizza coupons every month from the yellow pages," he says. The owner of Country Florist agrees, "Access has helped me get my name out in the community through their great local phone book and the Internet… their entire staff are so helpful and great to work with!"
Access Publishing, 806 9th St. #2D, Paso Robles, CA 93446, (805) 226-9890. http://accesspublishing.com/