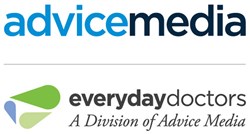 Park City, Utah (PRWEB) November 21, 2013
Advice Media LLC, a leading digital marketing company for healthcare professionals, is pleased to announce the acquisition of Everyday Doctors, a division of Everyday Health, Inc. The merger will form the largest digital marketing agency focused primarily on private healthcare practices.
"We are extremely excited to have Everyday Doctors become a part of Advice Media, explained Advice Media CEO Shawn Miele. Everyday Doctors has a large core of attractive customers and skilled employees. By combining forces, we can roll out the best of Everyday Doctors' practices, products and services with those of Advice Media to create a company with unparalleled expertise and capabilities in our core market.
As part of the acquisition, Advice Media will be opening an office in New York City to support the growth of the firm and the New York City-based team from Everyday Doctors. The New York office will complement Advice Medias existing office in Park City, UT and will help support customers across North America. With offices in multiple time zones, Advice Media will be extending its support hours to enhance the already excellent services it delivers to its clients.
We anticipate that this addition will greatly benefit all our customers, noted Miele. Together, Everyday Doctors and Advice Media will offer the industrys most comprehensive suite of products and services. We look forward to leveraging our joint strengths to bring clients even more effective, innovative and integrated digital marketing solutions.
Financial terms of the transaction are confidential.
About Advice Media LLC
Since 1998, Advice Media has provided healthcare professionals comprehensive digital marketing efforts to help them expand their practices and attract new patients. An integrated strategy encompasses website design and management, mobile readiness, email marketing, SEO, SEM, social media, directory services, blogs, reputation management, website video and the ability to track and monitor performance of these services. For more info, visit http://www.advicemedia.com.