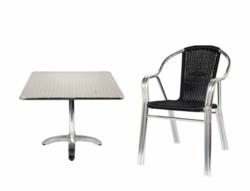 (PRWEB) February 09, 2013
As outdoor and patio seating appear to be hotter than ever in 2013, restaurant furniture supplier Affordable Seating is hoping to helps its customers stay contemporary and cool by offering sale prices on some of its cutting edge outdoor restaurant furniture.
Featuring an outdoor seating area in a restaurant, whether it be in a traditional patio setting, or in the form of ultra-trendy sidewalk seating, adds flair and style to a venue that increases its prestige exponentially.
"Imagine upgrading from a minivan to a convertible sports car and you begin to get the picture. Outdoor seating instantly expands a restaurant's dining area, offers customers a generally more relaxed and refreshing seating alternative, and in the case of sidewalk seating, advertises your restaurant to walk-through traffic and provides a great backdrop and environment for your customers. Your restaurant becomes an entertainment venue which is part of the cultural cityscape and not just a place to eat," Affordable Seating Marketing Director Jeff Walden explains.
With this in mind, Affordable Seating is highlighting some of its selection of outdoor restaurant furniture that it believes will help restaurant owners create a successful outdoor seating area in the New Year.
Affordable Seating's Resin Table Tops are the company's newest outdoor innovation, featuring a glossy and colorful appearance and a surface which is impervious to stains and water damage. On sale starting from $ 40, these resin table tops are available in walnut, cherry or dark mahogany wood finish.
"Resin is actually a high-quality plastic, but it looks like wood, only with a more lively color that really pops," Walden says. "These tables are easy to clean and easy to move, which is an extremely important factor for outdoor seating."
Another trend that Warren and Affordable Seating are trying to impress upon their clientele is the matching of different materials in putting together patio sets. "Just because table tops are wood, doesn't mean that chairs have to be made out of the exact same material. Wicker and granite, aluminum and wood, or any number of table-chair combination can add sophistication to a restaurant's outdoor look," he explains.
Affordable Seating's All-Aluminum and Aluminum and Rattan Patio Chairs are now on sale for $ 42. They are easily stackable and feature a lightweight design which is ideal for outdoor use.
For those seeking a luxuriant look and extra comfort in their outdoor seating areas, Affordable Seating's Aluminum Bamboo Cane Arm Chair, featuring an aluminum frame with an all-bamboo appearance is now on sale for $ 65.
Round ($ 51.50) and Square ($ 54) Stainless Steel Table Tops are also on sale for a limited time with various chrome bases available to match.
As 2013 appears set to be an exciting year for restaurant patio furniture, Affordable Seating looks to be at the forefront of the outdoor seating revolution.
To browse Affordable Seating's full selection of outdoor patio furniture, and all the rest of its chairs, bar stools, tables and booths visit http://www.affordableseating.net or contact a customer service representative at (888) 495-8884.