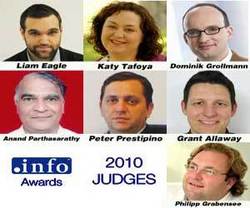 Dublin, Ireland (Vocus) August 17, 2010
Afilias, a global provider of Internet infrastructure services and the registry for the .INFO top-level domain (TLD), today released the roster of judges selected to evaluate submissions to the fourth annual .INFO Awards program. The Awards program, which opened last week, enables any .INFO website owner to submit their site for consideration to receive top honors as the Best .INFO Website of 2010 and receive a cash prize of up to $ 7,500.

Afilias is pleased to have such high caliber judges from the fields of online information, media, and technology, said Roland LaPlante, Senior Vice President and Chief Marketing Officer for Afilias. This years panel consists of judges from many different countries and three continents, truly representing the global nature and appeal of the .INFO domain.
The 2010 judging panel will be made up of seven distinguished individuals from the online, media and technology industries. They include: