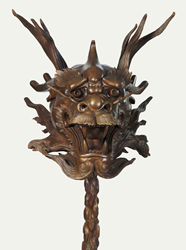 Jackson Hole, Wyo. (PRWEB) March 06, 2015
Animal sightings are common in Jackson Hole, but the cultural significance of animals beyond the region will be further explored when the National Museum of Wildlife Art hosts Ai Weiweis Circle of Animals/Zodiac Heads from May 9 through October 11, 2015. The monumental sculptural suite of 12 bronze heads representing the animals of the Chinese zodiac, by esteemed Chinese artist Ai Weiwei, will be installed on the Museums Sculpture Trail, overlooking the National Elk Refuge.
Each animal of the Circle of Animals/Zodiac Heads installation stands roughly ten feet tall and weighs about 800 pounds. The eleven actual animals (rat, ox, tiger, rabbit, snake, horse, ram, monkey, rooster, dog, and pig) and one mythical creature (dragon) are installed in the order of their appearance in the Chinese zodiac and re-envision the originals designed for the fountain-clock of the Yuanming Yuan (Garden of Perfect Brightness) in the 18th century during the Qing dynasty (16441912). The Yuanming Yuan was destroyed during the Second Opium War (185660) and was looted by invading Europeans, keeping ownership of the original works embroiled in international controversy. Ai offers this body of work as a symbol of Chinese national pride, and as a representation of the issues of looting and repatriation. Beyond their significance on the international stage, the heads are immediately engaging because of the familiarity most visitors have with the Chinese zodiac. The heads prompt visitors to ask, Whats your sign?
The Jackson Hole art scene contributes in exciting ways to the vibrant community, and the National Museum of Wildlife Art continues its legacy of high caliber inspiration with this exhibit, says Sara Flitner, the Town of Jacksons newly elected Mayor. We invite guests from near and far to experience Ai Weiweis 'Circle of Animals/Zodiac Heads' in Jackson, which is sure to be the most beautiful and dramatic setting for this international world tour. Enjoy these sculptural masterpieces, framed by our iconic Teton mountain peaks, and take some of the magic home.
The show arrives in Jackson after being exhibited in Mexico City, Chicago, London, Toronto, New York, S