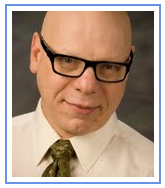 Duluth, MN (PRWEB) October 24, 2013
Marty Weintraub, founder and evangelist of aimClear, an internationally recognized online marketing agency with offices in Duluth and St. Paul, Minnesota, was named US Search Personality of the Year during the 2013 US Search Awards, held Wednesday, Oct. 23, in Las Vegas.
The US Search Personality of the Year Award recognizes a talented and inspiring practitioner who has revolutionized the search industry in the United States.
Weintraub has long been considered a thought leader in the online marketing space. With industry experience that dates to 1995, Weintraub founded aimClear in 2007 to bring his unique approach to search and social marketing to clients large and small, local and international.
In recent years, Weintraub has authored two Wiley/Sybex books, Killer Facebook Ads (2011) and The Complete Social Media Community Managers Guide (2013), which have quickly become staples on social media marketers bookshelves. He regularly contributes to major trade publications and shares cutting-edge techniques on aimClears online marketing blog, which has been recognized as one of PRWebs top 25 PR blogs, Cisions 10 top social media blogs, Technoratis top 100 business blogs, and PostRanks top 50 SEO blogs. Year-to-date, he has presented at more than 13 search marketing conferences, with 3 appearances still to come.
I am incredibly honored to be presented with the first US Search Personality of the Year award, said Weintraub. This award is a result of the awesome employees who help drive aimClear every day. They are the catalyst that propels me to share their hard work with the industry across the globe.
In addition to Weintraubs US Search Personality of the Year Award, aimClear has been recognized with multiple awards and honors. This year, aimClear was named to the prestigious Inc. 5000 list, coming in at number 898 among the nations fastest growing companies. The company was ranked at 463 on the Inc. 500 list in 2012. Last year aimClear was awarded second place in the small companies category of Minnesota Business magazines 100 Best Companies to Work For. Marty Weintraub is also the recipient of the Joel Labovitz Emerging Entrepreneur award as the founder of a business that has demonstrated growth in revenues, number of employees and impact on the community or region.