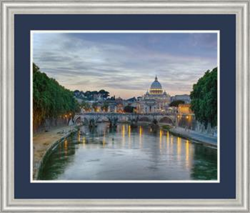 (PRWEB) April 14, 2015
Every month, American Frame, a web-based custom framing and art printing company, sponsors a contest for artists who sell and display work through American Frames online Art Gallery. Winners are selected by customer votes on Facebook and receive a cash award and promotion through American Frame. This months winners are Ainsley and Erik Jacobs.
The Jacobs are a husband and wife with their hands in two different worlds: motorsports and fine art. As marketing professionals, they own a company which specializes in public relations, promotion and support services for the automotive community. Their business and creative sides meet when photographing cars and racing events for clients. During their free time the Jacobs photograph other subjects, such as nature and architecture, though their creative spirit is most notable in the less traditional subjects they capture, such as a neat line of wrenches or a close-up of a gleaming racecar engine.
Erik Jacobs photographed Ponte SantAngelo in Rome this past January while the couple traveled in Italy for their annual anniversary vacation. A spontaneous opportunity led to capturing this significant Roman landmark in just the right light and the finished image was then edited by Ainsley Jacobs. Both Ainsley and Erik have had their photography published in magazines, such as Drag Illustrated.
The piece lends itself to many different framing treatments. The Jacobs recommend a silver frame, such as the Tarnished Silver Wood Picture Frame in American Frames Traditional Collection (#79613). A dark blue mat on top, such as the Bainbridge PaperMat in Midnight Blue (#E4837), paired with a classic slim white border on the bottom complements the dark green of the trees along the images border while echoing the blue of the sky and the water.
To contact the Jacobs or follow their work, visit their American Frame gallery and their website.
About American Frame
American Frame provides professional-quality DIY custom picture framing supplies and fine art printing services at wholesale prices direct to the consumer. Its easy web interface allows customers to design a custom frame treatment for assembly in the comfort of their homes or studios. They can also upload a digital image to be printed on canvas or fine art paper and receive framed work ready to hang. All orders are handcrafted in Maumee OH and shipped within 2 business days. Family owned and operated since 1973. Love your art. Frame it right.