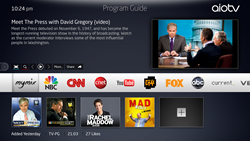 Denver, Colorado (PRWEB) October 01, 2013
aioTV, a global provider of OTT middleware, will demonstrate how video service providers can quickly deliver OTT video content and advanced video services to customers on any connected device through the unification of core multi-channel video service, streaming and Internet content into a single TV experience at SCTE 2013, Atlanta, GA, October 22-24. The demonstration will combine solutions from Elemental Technologies, a leader in multiscreen video delivery and can be viewed at the Elemental booth #1963.
The integration of Elementals powerful video processing systems with the aioTV platform successfully satisfies the growing need for video service providers to maximize IP delivery and create a consistent multiscreen experience, said Mike Earle, CEO, aioTV. Elemental provides a scalable foundation for service providers to efficiently fulfill customers multiscreen demands. Coupled with the aioTV platform, service providers now have the flexibility to seamlessly manage back office integration for provisioning, authentication, DRM, billing, channel packaging, advertising and customer management.
aioTV provides an advanced end user experience with a consistent UI across devices, giving video service providers an impressive end-to-end OTT solution, said Keith Wymbs, Elemental VP of marketing.
The aioTV platform is a cloud-based toolset that provides service providers the ability to quickly aggregate traditional linear, Internet video and VOD content into a scalable video service across connected devices. Features include: