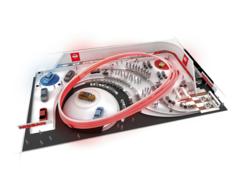 Melbourne, Australia (PRWEB) January 10, 2013
Last year, Nissan approached Air Aroma seeking to match a fragrance to their brand and market positioning for their global auto show exhibits throughout 2013. The first auto show exhibit will run 14th to the 27th of January this year at the Cobo Centre, One Washington Boulevard Detroit, MI, USA.
The auto show stand is aimed at enticing all the senses from sight, sound, touch and very importantly, scent. Many big name brands, including luxury hotels and retailers, understand the importance of interacting with all senses as part of the customer experience and Nissan also recognises the importance.
Air Aroma perfumers were provided with an initial brief from Nissan on the style of fragrance and image they wanted to portray. Nissan wanted a fragrance that was modern, vibrant and exciting and that also hinted towards the companys Japanese roots. The scent branding experts at Air Aroma then looked at Nissans target audience and brand identity to select the ideal fragrance.
In a statement posted on the Air Aroma website, the scent for Nissan that was eventually selected encompasses A fresh, luxurious and oriental fragrance with hints of green tea notes. The Nissan th