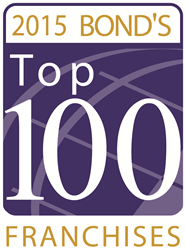 WACO,Texas (PRWEB) April 17, 2015
Aire Serv finished the first quarter of 2014 with new franchises ranking among the greatest franchise opportunities in the country in Bonds Top 100 Franchises for 2015.
The World Franchising Network developed their listing based on an analysis of multiple factors such as historical performance, brand identification, franchisee satisfaction, training and ongoing support. We are extremely pleased with the industry-leading franchisors that we have chosen for the 2015 edition of Bonds Top 100 Franchises, said Rob Bond, president of the World Franchising Network.
Aire Serv is an internationally franchised HVAC maintanence company, servicing both residential and commercial clients throughout the United States and United Kingdom. In 2014 Aire Serv sold 30 new franchise locations and year to date has 201 franchisees. We are honored to be ranked as a Top Franchise by the World Franchising Network, said Doyle James, president of Aire Serv. Our goal is to offer our franchisees with the support and business systems they need for success. Because of this, our franchise system remains a leader in the industry as evidenced by this award.
The results are published in the 2015 Bonds Top 100 Franchises (6th Edition), which is now available in bookstores or online. The publication includes a three page write up for each company that contains a detailed background material on each franchisor selected. Selection as a Top 100 Franchise is a great honor to those companies selected and should be a significant assist to prospective franchisees as they start their search process, Bond said.
Aire Serv is one of the eight brands franchised under The Dwyer Group to be selected as a Top 100 Franchise. It is an honor to have all of our brands recognized as Top Franchises, said Mike Bidwell, CEO of The Dwyer Group. Each award we receive is further affirmation of the value we bring to our franchisees.